The fantasy football season is over (unless you're in some insane playoffs-included league), so it's time to look back on the FF performances which caught our eye during the 2015 NFL campaign. Here's our list of the 5 Most Impressive Fantasy Football Performances Of The 2015 NFL Season.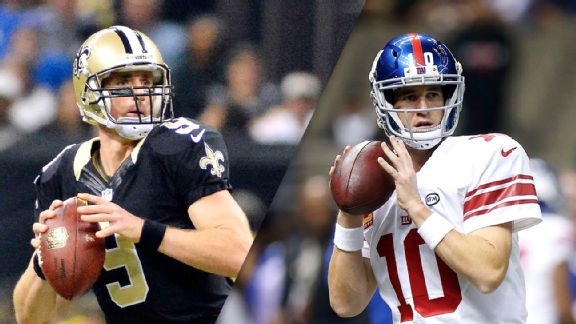 We're cheating here, so we slotted Brees/Manning in the opening spot just on principle rather than further up. However, if you had Brees/Manning in a two-QB league, your score in Week 8 will likely remain the stuff of legend. Brees & Manning combined for 861 passing yards and 13 passing touchdowns in New Orleans' 52-49 win. It was the highest overal scoring game of the NFL season and the most combined passing TDs in a game in NFL history. Brees has 511 yards and seven TD passes for 47.5 points. Manning had 350 yards and six touchdowns for 38 points. 
Just daffy, and a fantasy player's dream.
If you rode Cousins during you fantasy playoff run, you were rewarded in Weeks 15 and 16 with 684 total passing yards, eight passing touchdowns, one rushing touchdowns and 66.1 points. From fringe fantasy bench player to legit FF superstar in a blink, Cousins blew the doors off of leagues everywhere over a killer two-week stretch.
His 30.6 points on this day didn't crack the Top 5 of standard-scoring receiver performances this season, but his 17 catches were tied for the sixth most in a game in NFL history. His 284 yards ranked ninth in history as well. If you had him in a PPR league this day, you likely won by a blowout margin.
If you played Johnson during your fantasy semifinal matchup this year, you were rewarded with a performance which announced the rookie as an early-round draft pick in 2016. He ran for 187 yards and three touchdowns in Arizona's 40-17 win over Philly, and tacked on 42 receiving yards to boot. His 40.9 points were majorly impressive, but it's the impact on his future fantasy value which ranks him this high on our list. This game will forever be known for the slugfest between Panthers CB Josh Norman and Giants WR Odell Beckham Jr., but it's Newton's MVP performance in a season full of them which had fantasy owners buzzing. Newton passed for 340 yards and five touchdowns and ran for 100 yards as well. He bailed out fantasy owners who had both him and the Carolina defense, and once again cemented himself as the best dual-threat fantasy option around.
Back to the Fantasy Football Newsfeed
Related Topics: Kirk Cousins, Antonio Brown, Eli Manning, Cam Newton, Drew Brees, David Johnson