The 2015 fantasy football season is in the books, and you either have a year of bragging rights to look forward to - or another year of telling all your friends that next is you your year. Unfortunately, if you drafted any of these next five players on your roster, you probably didn't have much success this season. Here are the five biggest fantasy football busts this season:
QB Peyton Manning, Denver Broncos
Manning did miss six games this season, but no one was playing him or starting him at that point. Projected to be, well, Peyton Manning, he clearly showed signs of a steep decline in his play, leading the league with 17 interceptions while only throwing nine touchdown passes all season. All in all, he averaged a dismal 11.7 fantasy points per game - though he only scored over nine points four times and put up  -7 points in Week 10 against the Chiefs.
RB Eddie Lacy, Green Bay Packers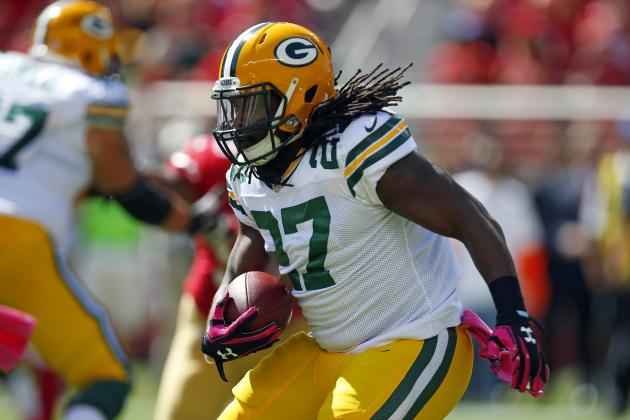 Projected to be the top running back in football this year, especially with the preseason injury to star Packers wideout Jordy Nelson, Lacy instead was perhaps THE biggest disappointment. After rushing for over 1,130 yards in each of his first two seasons in the NFL, Lacy racked up just 738 rushing yards, 188 receiving yards, and five total touchdowns. This eight fantasy points per game average is far from his expected elite running back status
RB Lamar Miller, Miami Dolphins
Miller was productive when the got the ball - the problem was that the Dolphins never gave it to him. Expected to build on his 1,099-yard year in 2014, Miller received less than 15 carries an ashtonishing 11 times this season, and his production dipped as a result, having just six games with over eight fantasy points in 2015.
RB C.J. Anderson, Denver Broncos
Remember when Anderson was supposed to be the featured back in Denver's offense? Yeah, that was fun.
Anderson only ran for 60 yards or more twice in the first 15 weeks of the NFL season, and those were the only two weeks in which he put up more than six fantasy points. He ended up playing second fiddle to Ronnie Hillman for most of the year, a huge disappointment to Anderson fantasy owners.
WR Randall Cobb, Green Bay Packers
Cobb was expected to have a real breakout season after Nelson's injury, but that didn't happen. He couldn't adjust to all of the extra attention defenses paid him and finished second on the team in receiving yards and TD catches behind James Jones, who Green Bay didn't sign until the Giants cut him in the preseason. He averaged just 8.1 fantasy points per game.
Back to the Fantasy Football Newsfeed
Related Topics: Eddie Lacy, Fantasy Football News, Dolphins News, Broncos News, NFL News, Peyton Manning, C.J. Anderson, Lamar Miller, Randall Cobb, Packers News