Fantasy football season is here, and the time to start preparing for your drafts is NOW! Don't fall behind your league by being unprepared, Tom Downey and myself are here to make sure that doesn't happen.
The Wide Receiver position is the deepest position in fantasy football, the NFL is a passing league and these are the pass-catchers, so it only makes sense. That doesn't mean that there aren't the elite players in this group, there is still a dropoff from the top tier to the next tier.  Take a look at my top 60 below. If you think my rankings are horrible, check out our other fantasy guru Tom Downey's here.
Last Update: August 23rd
1. Antonio Brown, WR, PIT
Brown is finally getting the respect he deserves as he has been the most consistent and the most dynamic fantasy football WR the past couple years. He hasn't caught less than five passes in a game in the last two seasons!
2. Calvin Johnson, WR, DET
Megatron was everyone's clear cut top wide receiver the past couple seasons and one not-so-good season and he is sliding down boards. Not so fast for me.
3. Odell Beckham Jr., WR, NYG
Wow! What a season this kid had last year! Or should I say, what a great 12 games! The final four games he hauled in 7 touchdowns, 43 receptions and racked up a whopping 596 yards! If those stats continue he will easily be the number one fantasy receiver by seasons end.
4. Dez Bryant, WR, DAL
No Demarco Murray, a potentially terrible defense and an uncertain running game should lead to more passing. Bryant will be the beneficiary and has went over double digits in touchdowns the last three seasons, with his career high of 16 coming last season.
5. Julio Jones, WR, ATL
Jones is the top receiver on an offense that is going to be pass-heavy with a very good quarterback. He had a somewhat down season last year because of his lack in touchdowns (6) but I expect that number to at least reach double digits.
6. Demaryius Thomas, WR, DEN
Thomas is an elite wide receiver with a Hall of Fame quarterback throwing him the ball. My only concern with Thomas is that his quarterback is 39-years-old and the Broncos want to take some pressure off of Manning and rely more on the run game.
7. AJ Green, WR, CIN
Green missed a few games due to injury and was hobbled in a couple others. He will bounce back this year and presents great value where he is being picked.
8. Randall Cobb, WR, GB
Cobb is right on the outside of the top 10 and a lot of people have him and Hilton flipped. It's just hard for me to put two receivers from the same team in the top 10. Cobb gets a bump in PPR. UPDATE: The Jordy Nelson season ending injury, helps Cobb a lot.
9. T.Y. Hilton, WR, IND
Hilton has done nothing but improve since he has entered the league and with Andre Johnson now in town, Hilton can find himself in plenty of single coverage. He has the best young quarterback in the game throwing to him and the two seemed to have developed a chemistry. Oh and he's also in a contract year $$$$$.
10. Alshon Jeffery, WR, CHI
Brandon Marshall is no longer in Chicago which puts Jeffery in the top wide receiver role. Jeffery still has Cutler throwing to him, but if there is one thing Cutler can do it is turn a guy into a top-ten receiver.
11. Brandin Cooks, WR, NO
Cooks will look to lead the Saints in receiving with Jimmy Graham no longer in town. Cooks has top-end speed and good hands. His big play ability is undeniable and he will finish a top-15 wide receiver.
12. Mike Evans, WR, TB
Evans is going into his second year in the NFL and had 12 touchdowns in his rookie season. He could very easily repeat double-digit touchdowns again this season and increase his reception numbers.
13. Jordan Matthews, WR, PHI
Matthews is the new top wide receiver after Jeremy Maclin departed to Kansas City. The No. 1 fantasy receivers under Chip Kelly's offense's last two years have finished in the top-12 with Desean Jackson finishing 12th in 2013, then Maclin finishing 10th in 2014. Matthews is going to look to continue that trend and if he is able to, he will be a steal in drafts this season.
14. Brandon Marshall, WR, NYJ
Marshall takes a big hit in terms of fantasy value by going to New York. The Jets do have a new coaching staff and it will be hard for Marshall to digress from his poor 2014 season.
15. Emmanuel Sanders, WR, DEN
Coming off his best season last year Sanders will play his second season with Peyton Manning and look to continue his ascension to fantasy relevance.
16. Keenan Allen, WR, SD
Allen had one of those sophomore slumps that I mentioned earlier. He actually had six more receptions in year two but failed to hit the thousand yard mark. Something that he should do again this year and is a big bounce-back candidate.
17. Golden Tate, WR, DET
I'm really high on the Lions' offense this year. Now in the second year of the new offense, it can expected that Stafford and the entire passing game takes a step forward.
18. Deandre Hopkins, WR, HOU
Hopkins will the be number one option in the Texans' passing game now that Andre Johnson is no longer there. His quarterback situation holds him back though as it could be either Brian Hoyer or Ryan Mallet as the starter.
19. Jarvis Landry, WR, MIA
Landry had an impressive rookie season, with 84 receptions and 5 touchdowns. He is expected to see plenty of targets again in the Dolphins quick hitting offense and could reach WR2 status in PPR leagues.
20. Julian Edelman, WR, NE
PPR target monster in the Patriots offense who play a heavy intermediate to mid-level offense, an area where Edelman thrives.
21. Sammy Watkins, WR, BUF
Watkins has all the talent in the world, but his QB situation is terrible. Right now it's anyone's job between EJ Manuel, Tyrod Taylor or Matt Cassell. He is also part of a run-first offense with a talented running back in Lesean McCoy.
22. Roddy White, WR, ATL
White is in the decline of his career and has struggled to stay healthy the last couple seasons. If healthy White could put together a solid year with defenses focusing heavily on Julio Jones.
23. Desean Jackson, WR, WAS
The ultimate boom-or-bust wide receiver, with a quarterback who is struggling to find himself again and reports of getting Pierre Garcon more involved all make Jackson a risky pick.
24. Vincent Jackson, WR, TB
Yet another boom-or-bust guy, Jackson could benefit from defenses paying more attention to Mike Evans but you can't teach an old dog new tricks. Fantasy players know what they're getting from Jackson.
25. Andre Johnson, WR, IND
Bounce back candidate, veteran wide receiver in a youthful wide receiver corps who gets a huge upgrade at the quarterback position.
26. Jeremy Maclin, WR, KC
Alex Smith no longer has an excuse to not throw to his receivers as Maclin is an upgrade on the fading Dwayne Bowe, who is now in Cleveland. Maclin finished as a top ten receiver last year but with Smith allergic to using receivers, he has to be ranked this low...for now.
27. Amari Cooper, WR, OAK
Potential rookie of the year candidate, Cooper should immediately demand targets in the Raiders offense. Carr isn't a horrible quarterback and if the Raiders offense can figure some things out, Cooper should be a reliable fantasy receiver.
28. Martavis Bryant, WR, PIT
There has been a lot of hype surrounding Bryant this offseason with some of the best being that he is up to 225 pounds. Already a heavy red-zone target last season, Bryant with the added playing time and weight should only solidify that this year.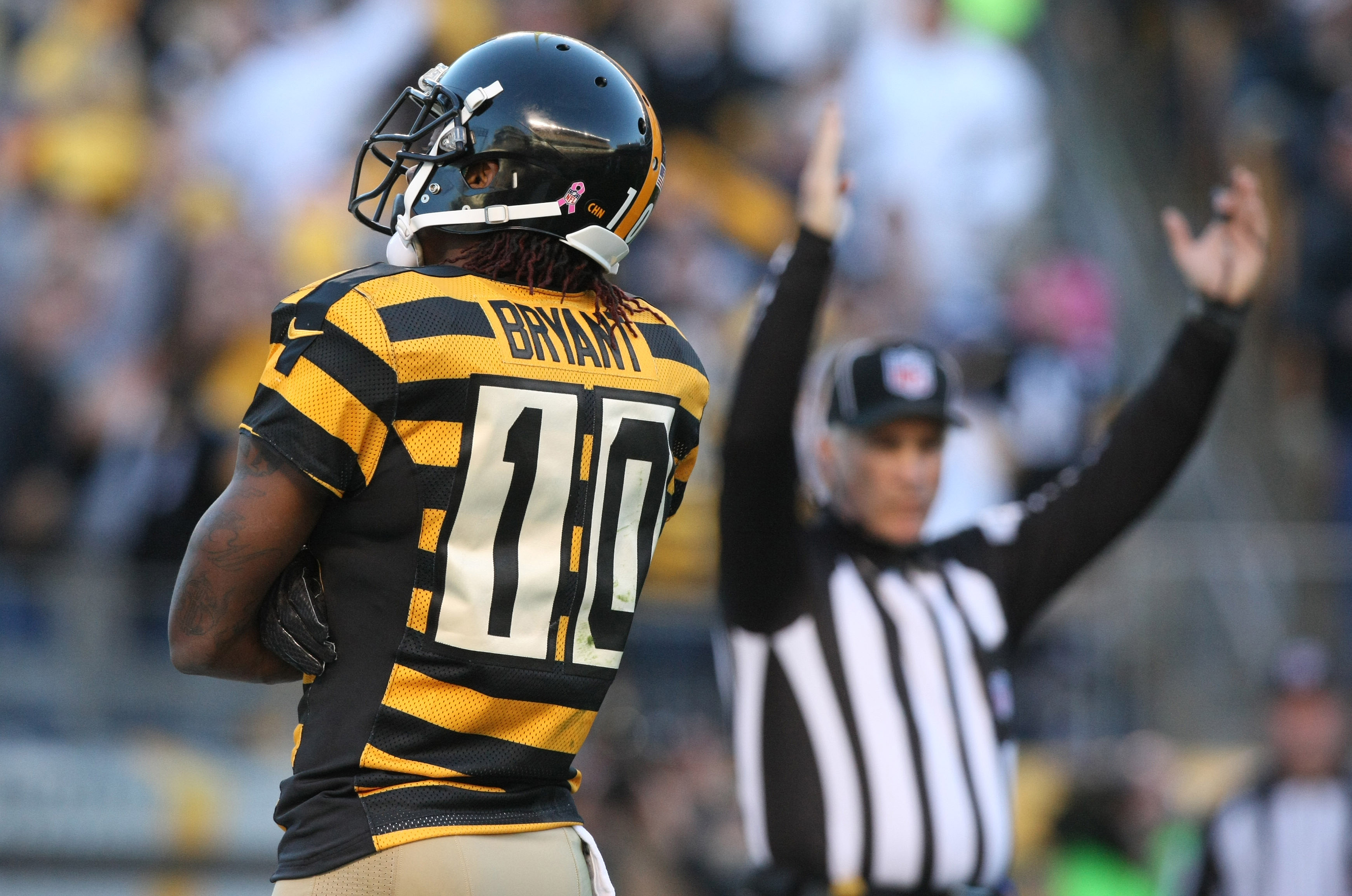 29. Michael Floyd, WR, ARI
30. Davante Adams, WR, GB
31. Torrey Smith, WR, SF
32. Nelson Agholor, WR, PHI
33. Larry Fitzgerald, WR, ARI
34. Charles Johnson, WR, MIN
35. Eddie Royal, WR, CHI
36. Allen Robinson, WR, JAC
37. Marques Colston, WR, NO
38. Anquan Boldin, WR, SF
39. Victor Cruz,WR,NYG
40. John Brown, WR, ARI
41. Brandon Lafell, WR, NE
42. Pierre Garcon, WR, WAS
43. Breshad Perriman, WR, BAL
44. Donte Moncrief, WR, IND
45. Mike Wallace, WR, MIN
46. Terrance Williams, WR, DAL
47. Steve Smith Sr., WR, BAL
48. Cody Latimer, WR, DEN
49. Kendall Wright, WR, TEN
50. Eric Decker, WR, NYJ
51. Kenny Stills, WR, MIA
52. Devin Funchess, WR, CAR
53. Brian Quick, WR, STL
54. Doug Baldwin, WR, SEA
55. Jaelen Strong, WR, HOU
56. Michael Crabtree, WR, OAK
57. Markus Wheaton, WR, PIT
58. Dorial Green-Beckham, WR, TEN
59. Brandon Coleman, WR, NO
60. Tyler Lockett, WR, SEA
Back to the Fantasy Football Newsfeed
Related Topics: Fantasy Football, NFL Fantasy Football, Fantasy Football Rankings