The San Francisco 49ers have not been a fantasy juggernaut the last few seasons by any means. Their offense was ranked 24th in 2013 and 20th in 2014 in terms of total yards. Gone are the days of Frank Gore manning the backfield, Michael Crabtree acting like he is a number one wide receiver and Greg Roman's boring and sometimes questionable play calling.
With Gore now in Indianapolis with Andrew Luck and the boys, there is a big void fill in the backfield. Fortunately for the 49ers they have someone who they feel is capable of filling that void.
Quarterback: Colin Kaepernick
(2014 Stats; Passing: 289-478 3,369 YDS 19 TD 10 INT; Rushing: 104 ATT 639 YDS 1 TD.)
While Kaepernick is a dual threat quarterback, his play has taken a step back the last two seasons. He set career highs in both passing and rushing attempts but that didn't translate into success, he finished as the number 17 fantasy quarterback. The O-line didn't improve and we still have to see where Vernon Davis disappeared to. The addition of Torrey Smith and Reggie Bush could help but I don't see Kaepernick breaking into the top 12 this year.
Running backs: Carlos Hyde
(2014 Stats; 83 ATT 333 YDS 4.0 YPC 4 TD)
The before mentioned guy to fill the void left by Gore is the second year player out of THEE Ohio State University, Carlos Hyde. San Francisco has a lot of confidence in Dr. Jekyll's alternate personality (Mr. Hyde, get it? Okay, I'll stop), and are really looking for him to become the unquestioned early down back in the backfield. That is asking a lot from a guy who only had double-digit carries in three games and only reached the 50-yard mark in two of 14 games. Hyde did show in college that he could carry the load and will have to show it again here in the NFL. He already looks to be a popular mid round pick in fantasy drafts this season.
Reggie Bush:
(2014 Stats; Rushing: 76 ATT 297 YDS 3.9 YPC 2 TD; Receiving: 40 REC 253 YDS)
Bush is now playing for his fourth NFL team and is coming in with something to prove. The Lions phased him out of the offense last season as he struggled with injuries. Bush is the clear-cut receiving back and has received plenty of first-team reps so far this off-season. The Niners only got worse this off-season and if they fall behind often then Bush should see plenty of time on the field. He could hold some value as a mid-round pick in PPR leagues if he is able to stay healthy.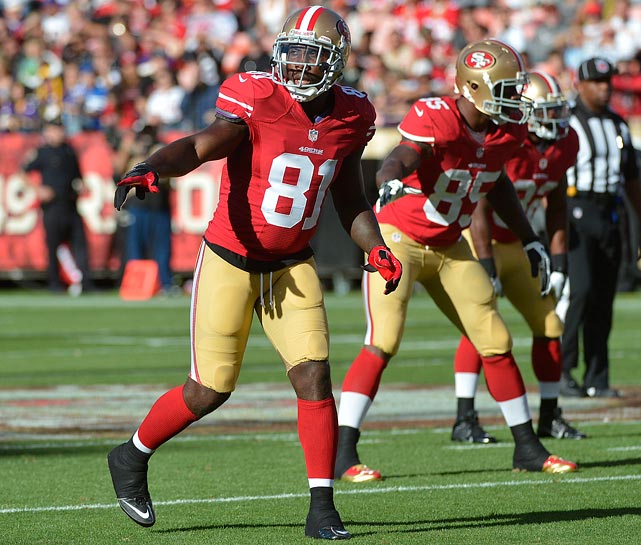 Wide Receivers: Anquan Boldin, Torrey Smith, Bruce Ellington, Quinton Patton, Jerome Simpson
Anquan Boldin has to slow down at some point right? He's already slowed down in terms of actual speed but his productivity has stayed consistent. He's drawn 130 targets each of the last two seasons and has eclipsed the 1,000-yard mark in both of them. However, going into a season where he will turn 35, the time is now for him to see a dip in production.
Torrey Smith will play a part in that. Smith is a legitimate deep threat and the first one that Kaepernick has had since joining the 49ers. We will have to see how that plays out for the new duo. Last season was Smith's least productive as far as total yards and yards per catch, but he had a knack for the end zone as he finished with 11 touchdowns.
Bruce Ellington, Jerome Simpson and Quinton Patton are essentially all fighting for the same spot and that is the third wide receiver position. Patton is going into his third NFL season and hasn't had many opportunities. Ellington is going into his second year in the NFL and like Patton has had limited opportunities. His 5' 9" frame makes him an option to line up in the slot and is probably the early leader for this spot. Jerome Simpson is going into his sixth season and has been a pretty unproductive player for the most part. He's only played in all 16 games twice and in both those years he converted on less than half his targets. Simpson will make the roster but it will take a lot for him or any of these guys to be fantasy relevant in 2015.
Tight End: Vernon Davis
(2014 Stats: 26 REC 245 YDS 2 TD)
Where exactly did Vernon Davis go last year? One season removed from an 52/850/13 stat line to putting up the above stats?! Davis claims that it was due to the game planning last season but to have that sort of drop off, there has to be more than just game planning going wrong. I do expect Davis to bounce back a bit, just how much is the question. If you like to draft two tight-ends, you can certainly do worse than a low-risk, high-reward pick like Davis.
Defense:
This 49ers defensive unit has gone from one of the first drafted on draft day to potentially not even being drafted. They simply lost too many valuable players on this side of the ball to be a trusted week in and week out fantasy defense. It'd be wise of you to leave them out there come draft day.
Back to the Fantasy Football Newsfeed