With the NFL Draft over and most free agents signed, it's now fantasy football season for the NFL. While fantasy drafts won't happen for most for a few months, it's not too early to start working on fantasy football rankings. With that in mind, here are the top 10 players for fantasy in 2017. 
These top rankings assume a standard scoring format. There are several players who just missed out, including A.J. Green, Devonta Freeman, Jay Ajayi, DeMarco Murray and more. Naturally, there will be some changes before drafts actually start. I tend to load up on running backs, a position I heavily value, which is evident in my rankings. 
10. Jordan Howard, RB, Chicago Bears
Despite not getting any real work until a few weeks into the season, Jordan Howard finished as the No. 9 running back in fantasy last year. Howard was great for the Bears and barring a sophomore slump, he should once again produce RB1 numbers. That gets him into the top 10 for the time being, especially since his top backups likely won't take away too many touches. 
9. Melvin Gordon, RB, Los Angeles Chargers
Gordon had a monster year for the Chargers, thanks in large part to a massive workload. He finished as the No. 8 RB, something that would not have happened had Danny Woodhead stayed healthy. That's no issues this year, as Woodhead is gone and the top backups are Branden Oliver and Kenjon Barner. Gordon will once again be a really good volume play for owners. 
8. Mike Evans, WR, Tampa Bay Buccaneers 
The additions of DeSean Jackson and O.J. Howard shouldn't hurt Evans' production. Evans, for much of the season, was the only consistent option for Jameis Winston. Now that the offense has help, Evans should have more room to operate. He probably doesn't finish as the No. 1 WR again, but he's a high-end WR1. 
7. Odell Beckham Jr., WR, New York Giants
Much like Evans, new additions on offense could help Beckham. Sure, adding Brandon Marshall and Evan Engram might reduce Beckham's targets, but he's still going to get his. Another top-four finish among WRs seems likely. You know, as long as he doesn't start fighting with the net again. 
6. LeSean McCoy, RB, Buffalo Bills
McCoy finished as the No. 3 RB last year and I'm again expecting big things from him. The Bills offseason moves were a clear sign they're going to run the ball and lot and top backup Mike Gillislee is now in New England. Barring injury, Jonathan Williams won't be getting a heavy dose of carries. My only concerns about Shady are injuries and the presence of long-time touchdown vulture Mike Tolbert. 
5. Julio Jones, WR, Atlanta Falcons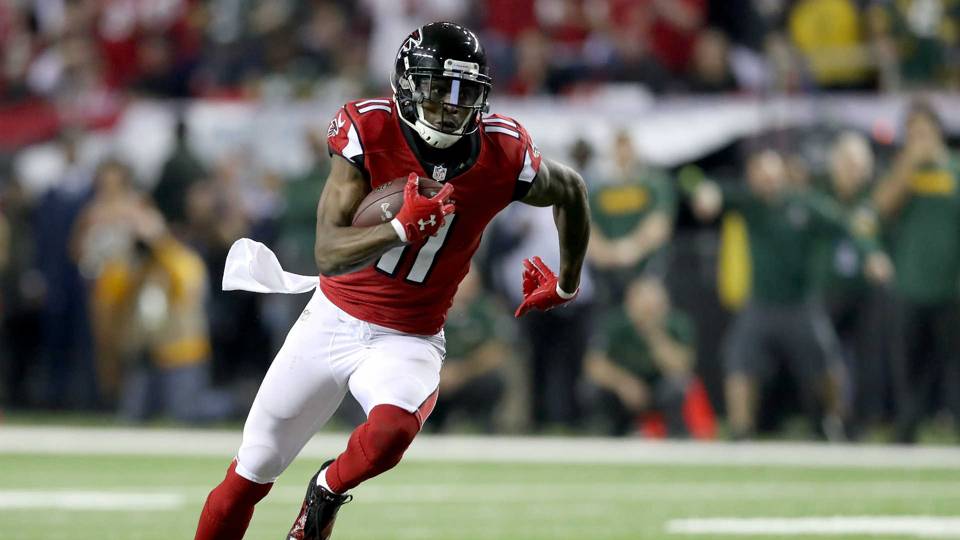 Owning Julio Jones isn't a stress-free experience. He consistently has some type of nagging injury and watching him limp around the field can be terrifying. And yet, he always produces. Jones has averaged at least 12.6 points per game, with last year actually being his worst since 2012. And he still finished sixth among WRs. He's an easy WR1. 
4. Antonio Brown, WR, Pittsburgh Steelers
Brown finished third among WRs last year, but probably would have finished first if he suited up for Week 17. Brown is the clear-cut top WR in fantasy, consistently producing and throwing in a few big games throughout the season as well. Frankly, the biggest worry about Brown is a potential Ben Roethlisberger injury. 
3. Ezekiel Elliott, RB, Dallas Cowboys
It's a clear-cut top three this year for me, and any order is okay with me. Elliott takes the third spot after finishing second among RBs last year. There's always the concern about a sophomore slump, but Zeke will get fed plenty this year. He led the league in carries last year and never really slowed down. He'll again get a massive workload behind a great offensive line. 
2. Le'Veon Bell, RB, Pittsburgh Steelers
Bell missed the first three games last year (and the season finale) and still finished fourth among RBs. That's insane for a player to miss what amounts to a fourth of the season and still finish top four at his position. Bell will again put up monster numbers, provided he's on the field. The suspensions and injury history are a bit troublesome, but Bell is easily worth a top three pick. I have no real objections to spending the No. 1 overall pick. 
1. David Johnson, RB, Arizona Cardinals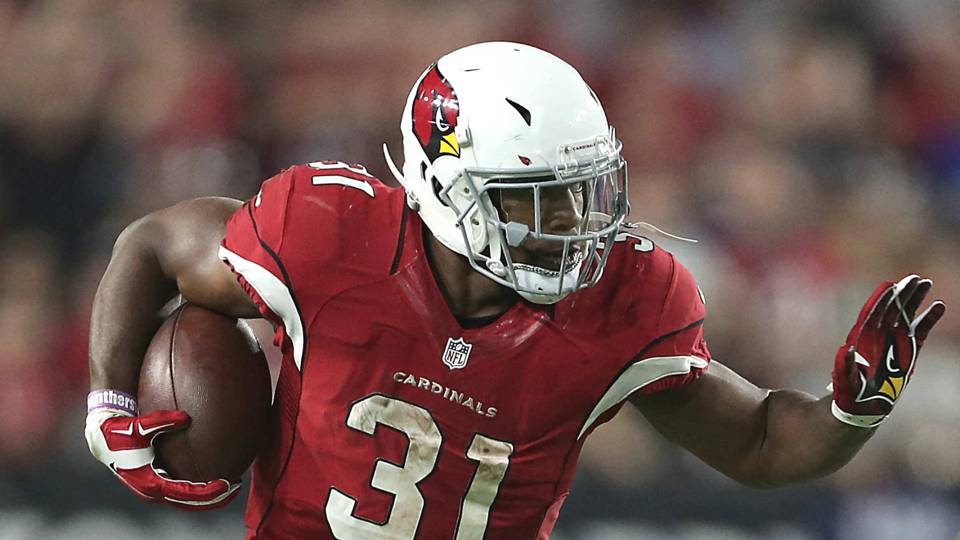 When Johnson went down with a knee injury that looked bad in the season finale, fantasy owners feared for his 2017 status. But it turned out Johnson didn't even need surgery for a sprained MCL and now he's at the top of the list for fantasy. Johnson was a monster last year in both the passing game and ground game. He led all non-QBs in fantasy points, finishing fourth overall. Johnson could seriously approach 400 touches this year. He hit the 370 mark last year and it felt like he still wasn't getting the ball enough. I'm taking Johnson No. 1 as of right now in all my leagues. 
Follow our Fantasy Football page for all the latest Fantasy Football Updates or download the Chat Sports App!
Back to the Fantasy Football Newsfeed
Related Topics: Fantasy Football 2017, Mike Evans, Le'Veon Bell, Jordan Howard, Fantasy Football, Ezekiel Elliott, Julio Jones, LeSean McCoy, Antonio Brown, Melvin Gordon, Odell Beckham Jr., David Johnson