The Duke Blue Devils pulled out a surprising 74-73 win in their first matchup against the rival North Carolina Tar Heels on Wednesday night, pulling off an eight-point comeback in the final minutes. Though it's just one game, their matchup revealed a lot about both teams as we inch closer to March. Here are three things we learned from last night's game:
3) Brice Johnson is the ACC Player of the Year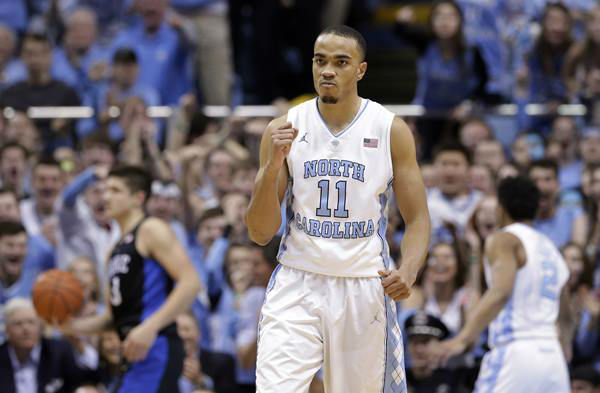 Even in the loss, UNC's Brice Johnson cemented himself as the frontrunner for ACC Player of the Year. He was able to do whatever he wanted in this one, scoring 29 points (13-17 FG) while grabbing 19 rebounds in just 33 minutes, all while limiting Duke's Brandon Ingram to 33 percent shooting. NC State's Cat Barber and Virginia's Malcolm Brogdon are the biggest threats to Johnson, but no one has played as well in big games as Johnson.
2) Duke can make some noise in the NCAA Tournament
Three weeks ago, there were major questions about whether Duke would make the NCAA Tournament or not. Now, it looks like they're capable of making a deep run. The Blue Devils essentially stuck with a five man rotation after senior Matt Jones got hurt, and they were still able to do what they wanted offensively.
Most importantly, they were able to adequately defend a much bigger team that usually dominates on the inside, holding the Heels below 43 percent shooting. That is the one major deficiency in this Duke team, and if they can continue to make it a non-issue, they can go far in the tournament.
1) UNC will not make the Final Four
This is the biggest and most alarming fact that emerged from last night's game - UNC has a lot of issues they need to work out. Their outside shooting has been a major problem all season, and it was again in this one as they shot just 1/13 from three-point range. That wasn't a huge issue for Carolina since they were dominating the glass and getting a lot of good shots from the inside, but they went almost exclusively to a perimeter attack in the last 10 minutes of that game...for no reason! 
Remember Brice Johnson and how good he was? He only took one shot in the last 12 minutes of the game as Carolina was content to jack up threes and contested mid-range jumpers, causing them to blow their lead late. There's no excuse why this happened, and the blame has to fall on Roy Williams.
These late-game blunders have become somewhat of a tradition for the Heels over the last few years, and it will bite them again in the NCAA Tournament.
Back to the Duke Blue Devils Newsfeed
Related Topics: Roy Williams, ACC Basketball, College Basketball, NCAA Basketball, Duke Blue Devils Basketball, Brice Johnson, North Carolina Tar Heels Basketball