The Duke Blue Devils have been getting by all season - and actually picking up impressive wins - despite having their three top freshmen all on the sideline with various injuries. Two of those freshmen returned this week, as forward Jayson Tatum (foot) and center Marques Bolden (leg) made their season debuts in Duke's big victory over Maine. Forward Harry Giles still remains out with a foot injury.
Let's get to recapping Duke's two wins this week, as well as looking ahead at the upcoming schedule and the latest news on Giles' injury.
Last week
Duke beats Michigan State, 78-69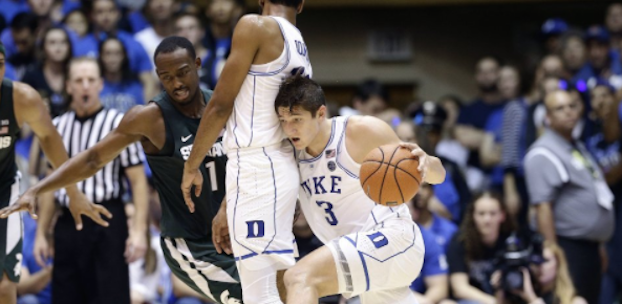 In the ACC/Big Ten Challenge, Duke played host to Michigan State in one of the most highly-anticipated games of the college basketball season. Despite behind shorthanded, the Blue Devils played their best when it mattered most, reeling off an 11-0 run in the second half for what proved to be the difference in the game. Grayson Allen also fought off an ankle injury to lead Duke with 24 points, while Luke Kennard added 20 and Amile Jefferson added 17 points and 13 rebounds.
Perhaps most impressively was the way Duke won the game. The Blue Devils are playing a perimeter-oriented game without all of their freshmen big men, yet still managed to get this win despite shooting 27 percent from three-point range. They won by playing excellent defense, forcing 18 turnovers.
Kennard's career-high leads Duke to 94-55 win over Maine
A game against Maine basically serves as a tune-up game after the battle against Michigan State, and Mike Kryrzewski used that to get both Tatum and Bolden back on the court. Tatum was in the starting lineup and played 20 minutes, tallying 10 points to go along with eight rebounds. Coach K was a bit more cautious with Bolden, who played 12 minutes off the bench and finished with seven points and five rebounds.
The debut of those two stars is certainly the storyline, yet Kennard stole the show on the court, dropping a career-high 35 points with eight rebounds. That was needed for the Blue Devils, as starting guards Allen (ankle) and Frank Jackson (sore foot) were held out of the game (though both could have played).
Upcoming schedule
Dec. 6 vs. Florida (9:00 pm ET, ESPN)
This game is the second game in Tuesday's Jimmy V Classic held at Madison Square Garden. Duke will be healthy as they have all season in this one, giving us our first real look at just how good this team can be. Bolden figures to join Tatum in the starting lineup for the first time, and both Allen and Jackson will be back.
The Blue Devils will need all hands on deck, too, as Florida has been one of the most improved teams in the country. At 7-1, they have risen to No. 24 in the country thanks to wins over Florida Gulf Coast, Seton Hall and Miami. Perhaps most impressively was their 77-72 loss to Gonzaga, who has proven themselves to be worthy of the No. 8 ranking with wins over Iowa State and Arizona.
Florida has a balanced offensive attack with four players averaging over nine points per game, but they aren't a team that can stretch the floor. The Gators shoot just 31.5 percent from three-point range as a team, and have just one player (Justin Leon) who shoots at least 36 percent from long range.
This matchup will follow Arizona State vs. Purdue, the first matchup of the event.
Dec. 10 at UNLV (5:15 pm ET, ESPN)
On Saturday, Duke will head west to face UNLV at T-Mobile Arena in the first matchup between the two teams since the Blue Devils beat UNLV in the 1992 Final Four, ending the Runnin' Rebels' undefeated season and quest for back-to-back national championships. It will be the first college basketball played at the new arena in downtown Las Vegas.
As for the game itself, UNLV doesn't appear capable of giving Duke much of a challenge. They are just 5-3 on the season, with losses coming at the hands of South Alabama, TCU and Arizona State. Sophomore guard Jalen Poyser may pose a bit of a threat, as he leads UNLV in both points (17.1 per game) and assists (3.9).
News & Notes
Harry Giles latest
When Giles underwent cleanup knee surgery at the start of October, the original timeline given for his recover was six weeks. We're now a few weeks past that, and thanks to ESPN analyst and former Blue Devils star Jay Willams' statement that Giles should sit the entire season, many are wondering if he'll ever suit up for Duke.
The notion of him sitting makes sense. Despite the obvious injury concerns surrounding him after three knee surgeries, Giles is still a projected top-five pick by ESPN NBA Draft analyst Chad Ford. If he were to suffer another injury, that stock would plummet dramatically. However, the injuries have hurt his stock, which he would raise simply by playing. Any NBA team interested in drafting him would like to see some tape of him in college, and if he plays well, he would likely be the No. 1 overall pick.
Everything around the program seems to be trending towards Giles playing at some point. He has gone through pregame warmups with the team for each of the past four games, and he has been practicing with the team for the past few weeks. Judging the way Coach K has been cautious with injuries this season - just look at how he has handled Tatum and Bolden, and the fact he sat Allen and Jackson against a lesser opponent - it's safe to say he's being overly cautious with Giles. Expect Giles to be back in the lineup for conference play, and possibly be on the court by the end of December.
What they're saying
Duke Officially Signs Dynamic Trio in Early Signing Period
Highlights: Duke vs Maine, W 94-55
Watch the Time Lapse of Duke's Win Over MSU
Follow our Duke Blue Devils news page for all the latest Duke basketball news!
Back to the Duke Blue Devils Newsfeed
Related Topics: Jayson Tatum, ACC Basketball, NCAA Basketball, Duke Blue Devils Basketball, Marques Bolden, Luke Kennard