The Duke Blue Devils have come out of conference play with a 12-1 record and are on a 10-game win streak, but it seems like there is more negative talk surrounding the program than positive due to the latest Grayson Allen tripping incident. However, there is also some good news in Durham as Harry Giles finally returned to the court last week, marking the first time all three of Duke's star freshmen were active.
Let's get to recapping Duke's two wins this week, as well as looking ahead at the upcoming schedule and the latest news surrounding the program, including a look at Allen's suspension.
Last week
Duke overcomes off game for 65-55 win over Tennessee State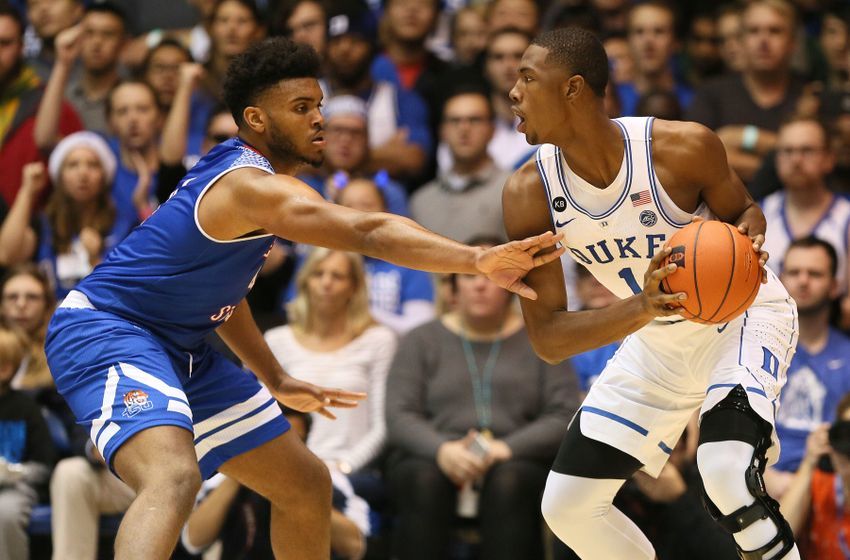 This was perhaps Duke's worst performance of the season at this point, despite it being Harry Giles' first game back (he played just four minutes). The Blue Devils trailed 36-34 in the second half before quickly building a double-digit lead, but their poor performance certainly left scars.
"This game was a learning experience for us," Luke Kennard said, who led the team with 24 points. "We can't take anything for granted. We've got to play each and every game like it's the biggest game of the year. ... I just don't think we were really ready to play. ... Our energy wasn't there, our enthusiasm wasn't there, and we just didn't really have one guy that's bringing us all the energy, and we really needed that tonight."
Duke shot just 37 percent from the floor and just seemed out of sorts, which could be expected when trying to re-shape your rotation in December. 
The good news - Tennessee State looks like a halfway decent team, so beating them while playing badly does tell you something good about this Duke team. They're 8-3 with all three losses coming on the road (Vandy, NC State, Duke), and almost upset the Wolfpack before blowing a late lead and losing in overtime. The Tigers will be a team to remember when filling out your bracket in March.
Allen's latest tripping incident mars 72-61 win over Elon
Another game in which Duke played well below expectations, Duke trailed 35-34 at halftime before pulling away in the second half. Kennard led the team in scoring again with 21 points, while Jayson Tatum played a season-high 37 minutes and scored 18 points with eight rebounds and four blocks.
Yet the story of the game was Grayson Allen, who blatantly tripped an opponent for the third time this calendar year:
"I mean, I don't plan on doing it again," Allen said after the game. "I made another mistake. I have to try to be better again, just like I tried to be better from last year. I made a really bad play. I'm sorry to him, Santa Ana. I'm sorry to the officials who have to call that. I'm sorry to my team, it's selfish and it took away from them. I'm not proud of it at all."
Allen was suspended indefinitely by Mike Krzyzewski the following morning. We'll talk more about that suspension and a potential return date in a bit.
Upcoming schedule
Dec. 31 at Virginia Tech (12:00 pm ET, ESPN2)
Duke's first ACC game of the season will be a tough test - especially considering how poorly the Blue Devils played in their last two games. Duke always seems to struggle in Blacksburg, with their last visit resulting in an overtime win over the Hokies. This is also the best Virginia Tech team in some time.
VT is 10-1 with wins over Michigan, Nebraska and Ole Miss, and the lone loss came in a three-point defeat to Texas A&M. They have a well-balanced attack with five players averaging at least 9.8 points per game, but are also a stout defensive group. Duke will have to be on top of their game to avoid being upset by a Hokies squad looking to add another notch to their NCAA Tournament resume.
Jan. 4 vs. Georgia Tech (7:00 pm ET, ESPN2)
The Yellow Jackets are rebuilding in head coach Josh Pastner's first season. They largely lack depth and struggle to score the ball, ranking 280th in the country in points per game. They have also failed to pick up a quality win this year, losing to Ohio, Penn State, Tennessee and Georgia.
Considering this is the Blue Devils' first conference home game, they should be firing on all cylinders. It should be a blowout win for Duke.
News & Notes
Latest on Grayson Allen's suspension
Let's get one thing out of the way - Allen is not going to get kicked off the team or be suspended for an expended period of time. If that was the case, it would have already been announced. This will likely be a three-game suspension at most. He will definitely miss the Virginia Tech game, and after that, Duke plays two cupcakes in Georgia Tech and Boston College before a two-game stretch against ranked Florida State and Louisville - both of which are on the road. Allen will be back for those games, and possibly before then.
What they're saying
Duke's New Year's Resolutions
Former Duke Basketball Players Excel in NBA Christmas Games
A Smart Way To Look At Grayson Allen
Follow our Duke Blue Devils news page for all the latest Duke basketball news!
Back to the Duke Blue Devils Newsfeed
Related Topics: NCAA Basketball, Grayson Allen, Duke Blue Devils Basketball, Mike Krzyzewski, ACC Basketball