In Jim Caldwell's debut as head coach in Detroit, the Lions defeated the Giants 35-14.
Matthew Stafford and Calvin Johnson were performing at a high level from the beginning of the game, and we're already seeing improvements in Stafford's ability to improvise and make plays out of nowhere. Of course, it certainly doesn't hurt when Johnson is out there doing his thing.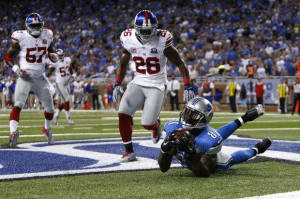 The Giants decided to keep Megatron single-covered throughout most the game, and the decision came back to bite them early. Busted defensive assignments left Johnson wide open multiple times, allowing him to score Detroit's first touchdown on their opening drive. Then, Stafford found Johnson in the end zone the very next drive.
In the second half, both Stafford and Joique Bell ran in touchdowns, furthering the team's lead. The Detroit defense allowed 14 points, which can be considered an improvement from last season.
The question is, will fans continue to see this kind of performance from the Detroit Lions?
Well, it's a new coach, a new year, and new team.
If the Lions keep up the hard work, they have serious potential. They could see the playoffs this year if:
Stafford can avoid turnovers

Johnson can continue to get open

Stafford takes advantage of other receivers (like Golden Tate) to take pressure off Johnson and spread the field

The running backs can move the chains and open up the passing game

The defense can hold their own and force turnovers
Making these adjustments will give Jim Caldwell's team the opportunity to show off the talent fans know they have.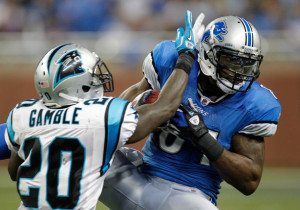 This week, Detroit travels to North Carolina to face the Panthers. Carolina will prove to be a very tough opponent for the Lions, but if they can take what they did against the Giants and capitalize on it, they should have a good shot at starting the season off 2-0.
For more articles by me, visit my writer profile here
Also, like us on Facebook!
Back to the Detroit Lions Newsfeed