The last time the Detroit Lions made a playoff appearance was in 2011. Since then, the team has stagnated, and they haven't proven that they can compete with the top teams in the NFL. After firing former head coach Jim Schwartz and hiring new head coach Jim Caldwell, fans are hoping to see the Lions turn the corner.
Detroit has some great players, but sometimes they play like a dysfunctional team. However, there's one game where fans can still benefit even if the Lions can't seem to win: Fantasy Football. 
Here are five Lions players that have serious potential for your fantasy roster: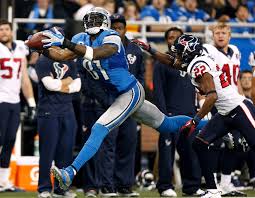 1. Calvin Johnson: 
Of course Johnson is the number one option from Detroit - and a lock for your draft's first round. The league's 'Megatron' has proven he can put up fantastic fantasy points, especially in PPR leagues.
Not only that, but Johnson is pure fun to watch. Sometimes the points don't start rolling in until the fourth quarter when the pressure is on, but they're almost always there. Even if Detroit doesn't win the game, Johnson - with his height, jumping reach and long arms - continues to be the go-to man for quarterback Matthew Stafford.
2. Matthew Stafford:
Stafford is a very solid choice as your #1 option at quarterback. He's one of the top-ranked quarterbacks in the 2014 fantasy football standings - no surprise with the numerous weapons he has available to him.
The former Georgia quarterback threw for 4,650 yards, 29 touchdowns and 19 interceptions in 2013. Stafford has put up high fantasy numbers season after season, and will continue to do so in 2014.
3. Reggie Bush:
Bush is one of the top 20 running backs in the league, according to both ESPN and Yahoo! fantasy rankings. He ran for over 1000 yards and rushed for four touchdowns last season, and although the TD number isn't top-notch, he should get more scoring opportunities this season.
Bush takes the pressure off the Lions passing game and is another solid pick, but some players might be scared off by his injury history. Bush was listed as probable or questionable eight times last season due to injury. It's hard to predict how his season will play out, but he has proven to be a talented running back who puts up big numbers when he can stay on the field.
4. Golden Tate: 
Tate is new to Detroit this season, and can become a very valuable player for the team. With Calvin Johnson being constantly double teamed, Tate will have many opportunities to come up with big plays.
Matthew Stafford has another receiving weapon on the field that fantasy players should consider looking into. Tate hasn't had phenomenal numbers in past seasons (largely due to injury issues) but we should see a significant improvement in 2014.
5. Joique Bell: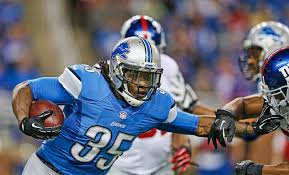 With fewer yards but more touchdowns than Bush, the two running backs could be
interchangeable. Bell has proven to be a dominant option when Bush is resting or injured.
Bell rushed for eight touchdowns last season, proving that he's good in the red zone. There are many running backs ranked above him, but could be a great option as a backup or a flex player.
It's almost that time - mock drafts have started, and the deadline is quickly approaching. Lions fan or not, these five players can add great value to your team.
You may also be interested in: 5 Dallas Cowboys Players Perfect For Your Fantasy Rosters.
Win up to $5,000 in a Fantasy Football Prize League on CBSSports.com
Back to the Detroit Lions Newsfeed