With the 2011-2012 NBA season in jeopardy due to the lockout, many NBA players are looking to play overseas just in case a deal doesn't get done in time. Many high profile players like Kobe Bryant and Kevin Durant have been in contract negotiations with foreign teams with Deron Williams setting the trend by signing with Besiktas from the Turkish League almost a month ago.
There have also been a couple of Denver Nuggets who have been looking across seas. Here is an update of which Nuggets players are staying home and which ones are going overseas.
Ty Lawson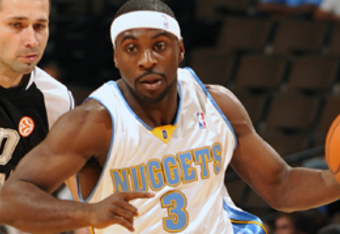 Lawson agreed to play for Zalgiris Kaunas in Lithuania along with former Nuggets player Sonny Weems. Lawson is expected to make seven figures and will be able to opt out of the contract whenever the NBA lockout ends.
Lawson said in an article by the Denver Post said that, "It's the best situation for me to go out there," Lawson said by phone. "Being at home, I'm not saying I'm a lazy person, but I want to be in the gym. And plus, it's a new experience going out to Lithuania, so why not? It was a no-brainer."
Wilson Chandler
Chandler decided to sign with Zhejiang Guangsha of the Chinese Basketball Association. However, the difference between Chandler's contract and Lawson's is that Chandler would not be able to opt out of the contract if in fact there is a 2011-2012 season.
This is because the CBA announced that they woudl not allow escape clauses for NBA players returning as a result of the lockout ending. This is a risky move considering Chandler is a restricted free agent and would lose a lot of bargaining power if the lockout were to end in time for the 11-12 season leaving Chandler to miss at least half of the season. This leaves one to wonder what was so special about the Chinese League that he would jeopardize playing in the NBA this season.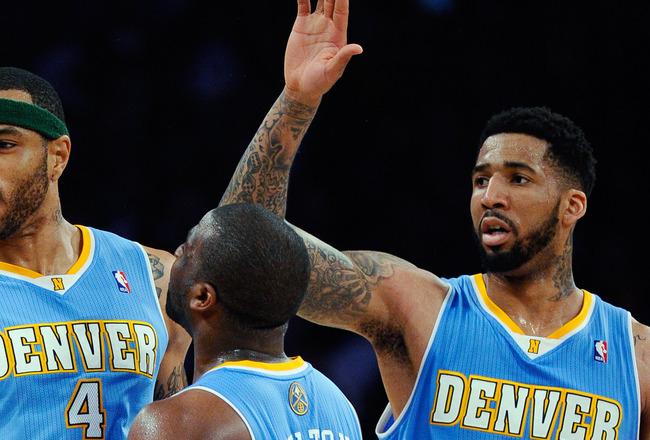 Chandler said in an article from ESPN that,  ""Maybe I'll lose out," Chandler said. "But I think it can be a great experience. I haven't been in any [labor negotiation] meetings. I can't call it. I'm just taking a risk, at the end of the day."
Other Nuggets players who have signed with foreign teams are Timofey Mozgov who will return back to his former club, BC Khimiki in Russia. San Antonio Spurs player, Chris Quinn will also join him.
While Gary Forbes and Danilo Gallinari aren't playing for clubs overseas, they both have gained valuable experience playing for their national teams.  Gallinari played for the Italian  National Team in the EuroBasket tournament, while Forbes will play for his native Panama in the FIBA Americas Championship in Argentina.
Denver's 2011 first round picks met in the Drew League Championship game a couple weeks ago with Hamilton's L.A. Unified beating Hank's Blazers 99-90, despite Faried putting up 20 points and 19 rebounds.
Nene had been originally rumored to be going overseas but he dispelled that quickly and instead, the Brazilian has been playing soccer in Denver parks to keep in shape.
While no other Nuggets players have been rumored to be going abroad, it is quite possible that number of interested NBA athletes will increase as becomes more and more likely that an 11-12 NBA season is not in the cards.
Back to the Denver Nuggets Newsfeed