The Brock Osweiler Era is over for the Denver Broncos before it even truly began. Osweiler left the Broncos to sign a four-year $72 million deal with the Houston Texans. Coupled with the retirement on Peyton Manning, the Broncos are now in desperate need of a QB. But who will get the start at QB for the Broncos in 2016?
The only QB currently on the roster is former seventh round pick Trevor Siemian, who was drafted out of Northwestern last year. Siemian is far from ready to be the starting QB, meaning the Broncos will need to find someone else. The team will look to the NFL Draft, free agency and the trade block to try to find a new starting QB. There are a few notable options for the Broncos. With that in mind, here are 4 QBs The Broncos Could Sign To Replace Brock Osweiler.
4. Ryan Fitzpatrick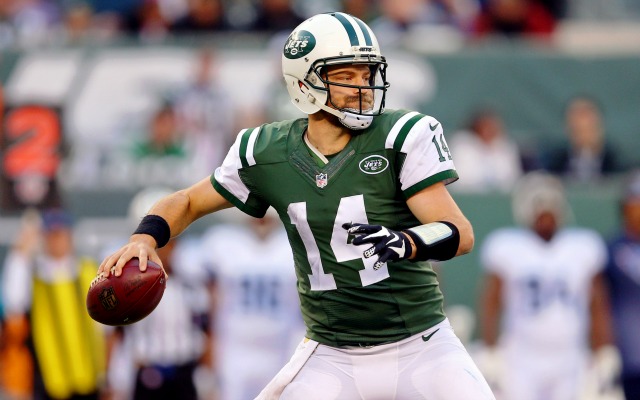 The backup plans are in full effect now. One of them is likely QB Ryan Fitzpatrick, and he's already been linked to the Broncos. Fitzpatrick should fit the Broncos' offense and he'd be an effective stop-gap measure while the team searches for a long-term answer in the Draft. Fitzpatrick would also assuredly be much cheaper than Osweiler. 
3. Dak Prescott
The Broncos are reportedly "enamored" with Prescott, the former Mississippi State. The report says Denver could take Prescott at some point on Day Two. If Denver is still searching for a QB come NFL Draft time, Denver would likely pull the trigger on Prescott during Round Two if the Broncos are indeed enamored with Prescott. There are similarities between Prescott and former Bronco Tim Tebow, but Prescott is more accurate. Denver could take Prescott (or another QB) and still sign someone. 
2. Colin Kaepernick 
The Broncos were linked to Kaepernick before the team lost Osweiler. The 49ers repeatedly have said Kaepernick is not available, but there's a report that Denver has inquired about Kaepernick and that discussions have occurred. Kaepernick fits the Broncos' offense and he could regain his previous form in Denver. However, it's unclear what the Broncos would have to give up for Kaepernick. 
1. Robert Griffin III 
Much like Kaepernick, Griffin makes sense for the Broncos. He's talented, mobile and fits the Broncos' offense. One report claims "RGIII is in the lead." He's already on the Broncos' list of possible replacements. While it's still early, RGIII looks like the favorite to end up in Denver. 
Back to the Denver Broncos Newsfeed
Related Topics: Ryan Fitzpatrick, Dak Prescott, Brock Osweiler, Broncos News, Colin Kaepernick, Broncos Rumors, Robert Griffin III