The Dallas Cowboys have a lot of business to take care of this offseason, and focus is starting to move over to extending Dak Prescott and Amari Cooper. The Cowboys' first offer to Prescott was not close, but once that deal gets done, expect Jerry Jones and Stephen Jones to start working on Cooper's deal. 
It's already been reported that Cooper's demands are "shockingly high", but what does that mean? The Cowboys Report with Tom Downey takes an in-depth look at the long-term contract extension for Cooper and Downey puts forth his projection for the contract.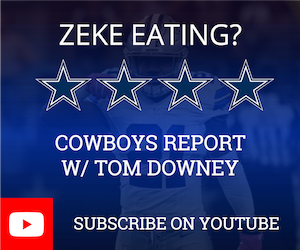 In the video above and below, join Downey as he breaks down Amari Cooper's projected contract extension, including the number of years, total amount of money, guaranteed money, signing bonus and percentage of cap. How much do you think Amari Cooper is worth? 
Head to BetDSI and use promo code COWBOYS120 to get a 120% deposit bonus! 
The video is from the Cowboys Report, a Facebook live show and a video podcast on iTunes. All of these videos can also be found on the new Cowboys channel, Cowboys Report on YouTube
Stick with us in the Chat Sports app or follow Dallas Cowboys Chat Sports on Facebook to be the 1st to know every breaking story and all the rumors on the Dallas Cowboys. 
Back to the Dallas Cowboys Newsfeed
Related Topics: cowboys offseason moves, Dallas Cowboys, Cowboys Rumors, cowboys 2019, Cowboys News, Amari Cooper, amari cooper contract extension