Johnny Manziel is getting a second chance in the NFL. After a strong pro day showing at Texas A&M, the Dallas Cowboys are signing Manziel to a one-year deal. The move was announced at a press conference that just concluded and posted by the team's twitter account.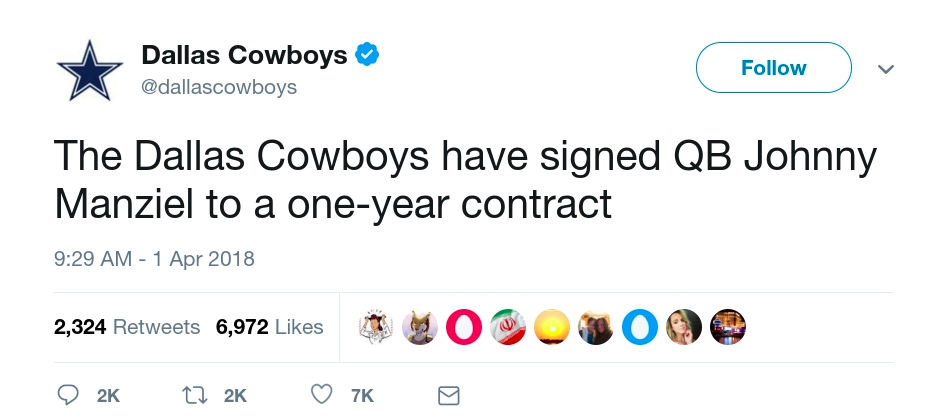 It's a prove-it contract, as the Cowboys will let Manziel compete for a backup role with Cooper Rush. There's no guaranteed money involved and the contract will pay Manziel just the vet minimum. 
"I'm going to pour my heart out for this team, for this organization," Manziel said. "And continue to go in and just work extremely hard, and try to become the football player that I want to be and I know I can be." 
For the Cowboys, the signing of Manziel gives owner Jerry Jones the quarterback he wanted so desperately to draft in 2014. Jones confirmed at the press conference today at his son, Stephen Jones, took the card that said "Johnny Manziel" out of his hand on draft night. The Cowboys instead took Zack Martin, a move that was clearly the correct one in hindsight. That still hasn't stopped Jones from pinning after Johnny Football. 
"I am still so damn mad. I get madder, every day, about missin' him," Jones said. "[He] guarantee[s] our relevance for 10 years. I'm still so damn mad at Stephen."
Jones is a big believer in second chances, especially when those chances are being given to talented football players. He's taken risks in the recent past on players like Randy Gregory, Greg Hardy and Adam Jones. The next reclamation project is Manziel.
"Of course, what has happened [with Manziel] is tragic. It's really tragic. And no one could have anticipated him being where he is now. I wish him, really like him, know him, wish him the very best. It's far beyond talking about this football team in terms of the consideration that I would give him." 
Despite that, Jones made it clear that Dak Prescott is the team's starting QB. The move was about adding talented depth at the most important position in football. 
"There's no way any quarterback comes in here and beats out Dak Prescott," Jones said. "As you well know in here, Prescott is going to be the quarterback for the Cowboys for several years to come. There's no moving around it. I don't care who you sign."
As for Manziel, after his recent public comments detailing his issues off-the-field, he's just happy to be back in the NFL. 
"I'm going to take a very aggressive mindset into it," Manziel said. "I'm going to work extremely hard to get what I want, and I know what that is. I want to win, and I want to be successful. The amount of time I put in and the heart I put into this, which I know I'm capable of doing, will tell the tale."
Manziel was the 2012 Heisman Trophy winner, but struggled in the NFL amid off-the-field issues. He started just eight games in two years before the Browns cut him. Manziel, a dual-threat, completed 57 percent of his passes for 1,500 yds, 7 TDs and 5 INTs. He also had 249 rush yards and a TD. 
The Cowboys might only keep two quarterbacks on the roster, which means Manziel would need to beat out Cooper Rush. The 2017 UDFA from Central Michigan is well-regarded by the Cowboys, despite throwing only three passes last year. 
This article is an April Fools' Joke. This did not actually happen, and we would be surprised if it did.
If you like fun, follow Tom Downey on Twitter. If you want to express your hatred of April Fools' jokes, you can yell at Tom on Twitter. He (probably) won't block you. 
Back to the Dallas Cowboys Newsfeed
Related Topics: Johnny Manziel Cowboys, Cowboys News, Johnny Manziel, Cowboys Rumors