The Dallas Cowboys rumors on today's Cowboys Report include the latest on today's show include the latest on if the Cowboys will make a run at Earl Thomas and if that interest is mutual. And speaking of safeties, will Dallas have interest in Landon Collins? And on the free agency front, what is going on with DeMarcus Lawrence and the franchise tag.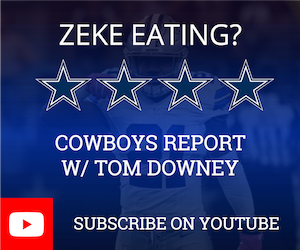 In other Cowboys news and rumors, Tom breaks down some Cowboys NFL Draft rumors and if there's a chance Kellen Moore could be the Cowboys' head coach in 2020. Should the Cowboys target Jeffery Simmons in free agency?
Head to BetDSI and use promo code COWBOYS120 to get a 120% deposit bonus with the internet's #1 sportsbook! 
The video is from the Cowboys Report, a Facebook live show and a video podcast on iTunes. All of these videos can also be found on the new Cowboys channel, Cowboys Report on YouTube
Check out the complete list of Cowboys rumors below and in the latest edition of the Dallas Cowboys Report with Tom Downey:
- Lawrence Won't Sign Tag?
- Landon Collins & Cowboys?
- Earl Thomas Pursuit?
- Draft Jeffery Simmons?
- Kellen Moore Next HC?
- OT A Draft Priority?
Stick with us in the Chat Sports app or follow Dallas Cowboys Chat Sports on Facebook to be the 1st to know every breaking story and all the rumors on the Dallas Cowboys. 
Back to the Dallas Cowboys Newsfeed
Related Topics: Cowboys Rumors, Cowboys News, Demarcus Lawrence, Earl Thomas, Landon Collins