On a cool night in East Rutherford, fans were treated to the most entertaining Sunday Night Football matchup of the season. Odell Beckham Jr. may have defied gravity, but Tony Romo and the Cowboys pulled off a second-half comeback and won the game.
Turning Point:
This game came down to the final drive, when a Giants fourth-down conversion came up just inches short. After such an exciting game, it was a tough way to go down.
Cowboys MVP:
Tonight, Tony Romo was the quarterback Dallas wants him to be. Romo was relaxed under pressure, didn't force anything, and led a game-winning drive with under two minutes left. He finished 18/36 with 275 yards, four touchdowns, and no interceptions. Plenty of credit has to go to his offensive line, which gave him all the time in the world on his final, decisive drive.
Giants MVP:
Even if Odell Beckham Jr. hadn't pulled off the catch of the year (decade? century?), he'd still be our Giants MVP. With 10 catches for 146 yards and 2 TDs, Beckham terrorized the Cowboys secondary all night long.
Play of the Game:
If you watched this game live, you don't need us to tell you what it was...Odell Beckham Jr. decided the laws of physics no longer applied to him, then went and did this: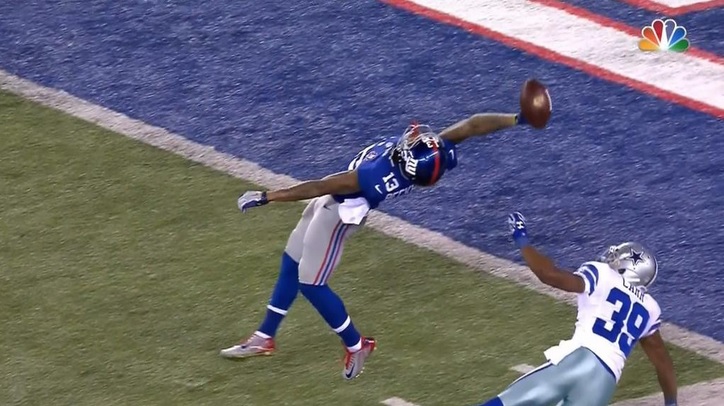 He was fouled on the play as well, but still ended up hauling it in for a touchdown. Even the Cowboys fans were impressed...and that isn't easy to do.
What's Next?
The Cowboys host the Philadelphia Eagles on Thanksgiving Day in a matchup with huge playoff implications, and the Giants will look to end their now-six game losing streak on the road against the Jacksonville Jaguars next Sunday.
Back to the Dallas Cowboys Newsfeed