There's no denying the improvement Dallas has shown so far this season. Standing at 6-2, the team is seeing better results than they have in several years, but they hit a bump in the road with a loss to the Washington Redskins on Monday.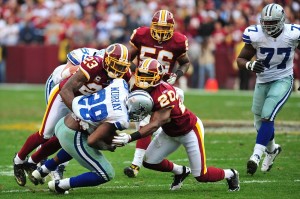 The five straight wins for Dallas prior to their loss against the Redskins has fans wondering if the Cowboys have what it takes to have a successful season, make it to the playoffs...and do well once they get there.
Glimpses of what the Cowboys could be have been visible through the cracks.
DeMarco Murray has more rushing yards by himself than several entire teams. Murray has five fumbles on the year, making the top of the fumble list, but with every fumble there has been several plays making up for it.
Whether Dallas will allow Murray to carry a majority of the workload down the stretch is still a question analysts and fans are wondering about, especially given his injury-prone past. That being said, the running back is having an all-star season. Murray has seven touchdowns on the year – leading the team.
The offensive line is surprisingly stacked, and plays a large role in Murray's ability to run up the field. Up until Monday night's game, the O-line had done a good job protecting Tony Romo, allowing the QB time to scan the field and pick his targets. There's clearly still room for improvement, though - against the Redskins Romo was sacked five times, with one leading to a back injury and a visit to the locker room.
The Dallas defense struggled when facing Colt McCoy, but has held some of the best offenses in the league to just a handful of points. The Cowboys defense is ranked 14th in the league after coming into the season with almost no expectations - if they can continue to excel, that has to be considered a major success.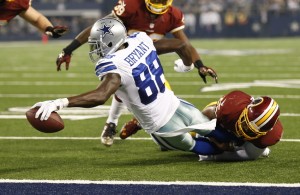 Dez Bryant remains the Cowboys' best weapon in the passing game. He completed a 5-yard reception for a touchdown Monday that set off social media thanks to his incredible strength and persistence. Jason Witten, the team's tight end seems to be getting a little more attention this season, but has only half of Bryant's stats...still, he's an important weapon for the offense, and his skills continue to be valuable to the team.
Leading the NFC East, it's too soon to tell whether the Cowboys will be able to prove to fans that the glimpses are a preview or a tease. Dallas must bounce back from the loss to Washington and play like they did against the Seattle Seahawks on a consistent basis.
The Philadelphia Eagles are 5-2 and are right behind the Cowboys in the NFC East. Can Dallas keep the lead, keep the momentum and keep their hopes for the playoffs alive? Only time will tell.
For more by Tatum Woods, visit her Chat Sports writer profile here
Back to the Dallas Cowboys Newsfeed