The Dallas Cowboys suffered through a disappointing 2017 season, missing the playoffs for the sixth time in eight seasons. With the news about the Cowboys releasing Dez Bryant and Jason Witten retiring, will this mean their priority for a wide receiver or tight end on Day two of the NFL Draft is growing? Perhaps they target an elite defensive player instead of an offensive weapon in the first round due to the uncertainty of the position. Here are five players the Cowboys could select with pick #50 or #81 of the 2018 NFL Draft:
Cowboys Fans - Download Chat Sports on iPhone today for breaking Cowboys news, rumors, scores and more - Chat Sports iPhone App!
5.) Anthony Miller, WR, Memphis
One of the most electric wide receiver prospects this year is Anthony Miller. In his final year with Memphis, he had 96 receptions 1,462 yards, and 18 touchdowns. He is an athletic freak and would be a great fit with Dak Prescott in the Cowboys offense. Miller may fall to the Cowboys in round three, but don't be surprised to see them trade up for him if he falls in the draft.
4.) Dallas Goedert, TE, South Dakota State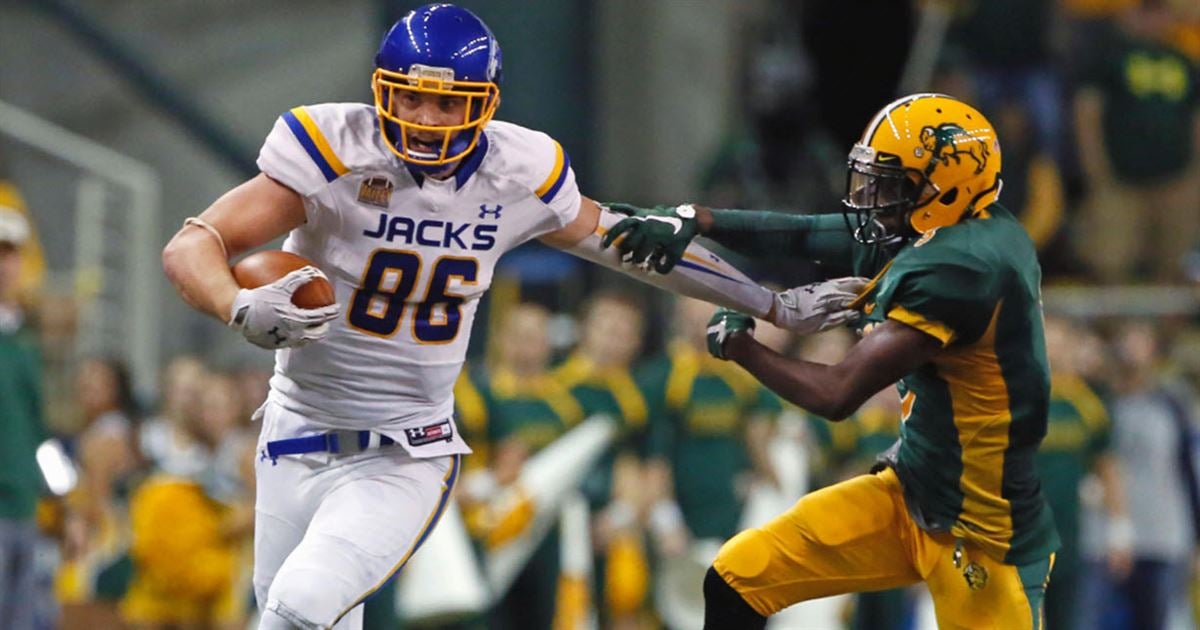 Goedert is the best pure tight end prospect in this year's draft when you combine his receiving and blocking ability. The type of player that could step into Jason Witten's role with the Cowboys since he announced he will retire today. Goedert was an absolute force at San Diego State and will be a second-round pick in the 2018 NFL Draft.
3.) Mike Gesicki, TE, Penn State
Dallas doesn't have many needs offensively but does want to add depth at the tight end position. There are no great tight end prospects in this year's draft, but Gesicki is probably the closest to one due to his size and great athletic ability. However, he was extremely inconsistent at Penn State and often got lazy with his routes and on blocks. He could be an option in round two for the Cowboys.
2.) Will Hernandez, OG, UTEP
Will Hernandez not going in the first round of the 2018 NFL Draft is quite shocking. He is a big offensive guard who is actually one of the most athletic players (pound for pound) in the entire class. If Dallas wants Hernandez they will have to snag him in round 2.
1.) Courtland Sutton, WR, SMU
Sutton was believed to be a first-round pick but slipped out of round one and may land in the Cowboys lap in round two. Size (6-foot-4, 216 lbs.), speed, and production (68 catches, 1,085 yards, 12 touchdowns) are all there for Sutton, but the questions with him come from playing against Group of 5 competition. Dallas needs to find a starting-caliber wide receiver and Sutton provides the best bet to be that in round two.
Stick with us in the Chat Sports app or follow Dallas Cowboys Chat Sports on Facebook to be the 1st to know every breaking story and all the rumors on the Dallas Cowboys!
FOLLOW: Mitchell Renz is the Senior Writer & On-Air Host at Chat Sports. Check out his article archive and live videos on Chat Sports Facebook page. Please follow him on Twitter @MitchellRenz365. ​
Back to the Dallas Cowboys Newsfeed
Related Topics: Courtland Sutton, Cowboys Rumors, Dallas Cowboys News, Cowboys New, Cowboys News, Cowboys Draft Rumors, Cowboys day 2, Dallas cowboys rumors, Cowboys Rumors DRaft, Cowboys Rumors 2018