As the football season approaches, excitement for fantasy football is building quickly. Fans are preparing for league drafts and getting ready to take on their friends, co-workers and complete strangers.
Fantasy football is the greatest excuse out there to watch more football, scream at the TV and constantly check your scores...especially if there are prizes up for grabs.
If you find yourself in a fantasy draft and contemplating picking up a Cowboys player, refer to this list as your guide to the five best Dallas players for your fantasy team: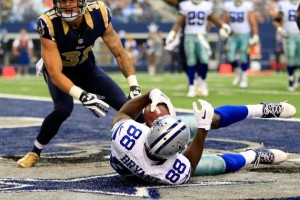 1. Dez Bryant:
Without question, Bryant is the best fantasy player on the Cowboys, and he's absolutely first-round material.
Dez had 13 touchdowns last season, and it's likely he'll exceed that number in 2014. Bryant's explosive speed and ability to make big plays make him a top WR in fantasy football, especially in PPR leagues.
Whether you're a Cowboys die-hard or just looking for a top-tier wide receiver, you don't want to let Bryant slide by.
2. Tony Romo:
Despite the turnovers and the avoidable fourth quarter mistakes, Romo consistently ranks as one of the Top 10 quarterbacks by the end of each fantasy season.
With Dez Bryant, Jason Witten and Terrence Williams all spreading the field, Romo should continue to be a good choice for your starting quarterback.
3. Terrance Williams:
There is no doubt Williams will be a better player in his second season in the NFL. With teams focusing their attention on Bryant and Witten, Williams could see great opportunities to make some big plays.
While he won't put up WR1 numbers, he's definitely a high-potential player to keep in mind as you're drafting your team.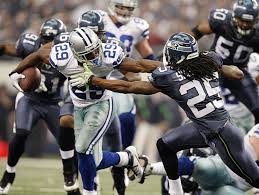 4. DeMarco Murray:
With new offensive coordinator Scott Linehan in town, there's a good chance that Murray could see
more opportunities in the passing game. This could really bump up his fantasy value in PPR leagues.
However, Murray should still be considered a risky choice given his injury-prone reputation and Lance Dunbar around to lighten some of Murray's load.
With a better offensive line to run behind, Dunbar and Murray's fragility haven't stopped many rankings from listing Murray as a first-round draft pick. That's up to you.
5. Jason Witten:
Witten is another risky option, but the offseason changes in Dallas should help him improve on last year's relatively low output.
With his low touchdown numbers last season, other tight ends with more TDs are a safer option...but in PPR leagues, Witten has the potential to be a very solid pick. Don't expect Witten to put up top-notch numbers - those days are over - but he could be a good option as a backup TE or flex.
There really isn't much better than a competitive, nail-biting and intense season of fantasy football. This year, there's both serious risk and enticing potential in drafting a Dallas player.
Who will you take?
Back to the Dallas Cowboys Newsfeed