The Cleveland Cavaliers sent Kyrie Irving to the Boston Celtics in a blockbuster trade last night, reshaping the NBA landscape. While Cleveland got some quality pieces in return - namely Isaiah Thomas and Jae Crowder - Brooklyn's unprotected first-round pick in the upcoming draft is the most valuable asset they received.
The pick is projected to give the Cavs a top three selection in another loaded draft class, giving themselves a star young player to build their future around. It serves as insurance with LeBron James refusing to commit to the franchise past this season. However, there is a very real possibility that Cleveland could use that valuable pick in a trade to acquire superstar and convince LeBron to stay. If they choose to go that route, here are four possible stars they could trade for:
DeMarcus Cousins, C, New Orleans Pelicans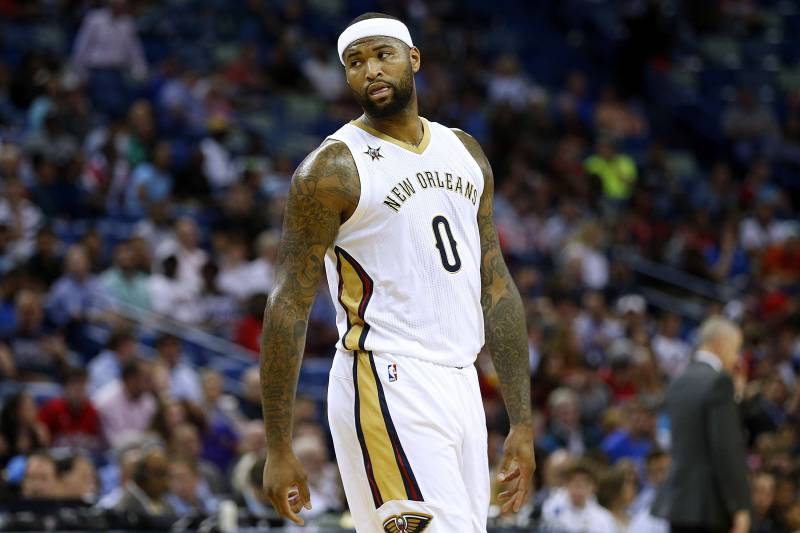 Cousins is one of many All-Stars who will be unrestricted free agents next offseason, and as he enters his first full season with the Pelicans, the team is expecting to make the playoffs and compete once they get there. However, with several other teams in the conference loading up on superstars, New Orleans isn't projected to get anything more than the seven-seed in the West. 
The Pelicans may decide to punt on the DeMarcus Cousins-Anthony Davis experiment if they struggle early in the season with no long-term commitment from Cousins. They'd need to start thinking about their future and keeping Anthony Davis happy, and the Brooklyn pick would give them another young star. Cleveland has been interested in Cousins for some time and adding him to a core of LeBron, Thomas and Kevin Love would allow them to legitimately compete with the Warriors.
Marc Gasol, C, Memphis Grizzlies
Another center, Gasol has quietly been perhaps the best all-around center in the league for several years. He's a gifted passer, lockdown defender and can score from anywhere on the court. Thanks to the improvement of all those teams in the Western Conference, the Grizzlies aren't going to come close to winning a title. As such, with an older team, Memphis really needs to start thinking about a rebuild. Cleveland would gladly take everything Gasol has to offer and Memphis could use a top pick. 
DeAndre Jordan & Patrick Beverley, Los Angeles Clippers
The third of the center options is DeAndre Jordan, but Cleveland doesn't value him enough to send the Brooklyn pick to the Clippers just for him. Enter Beverley, who would be a huge defensive asset against the top teams in the league - especially the Warriors. Jordan is an elite rim protector, a valuable skill the Cavs haven't had in a very, very long time. 
Why would the Clippers look to deal him? Again, with so many teams loading up in the West and them losing Chris Paul to the Rockets, they're not going to compete for a title. LA just re-signed Blake Griffin and want him to be the centerpiece of their future, so he's off the table. But adding a young star with that pick (like Marvin Bagley III) could make them a top team when Golden State's dynasty is over.
It's worth noting that new Clippers general manager Michael Winger was with Cleveland's front office from 2005-2010 as team counsel and director of basketball operations. That could made a deal easier to work out between the two sides.
Cavs Fans - Download Chat Sports on iPhone today for breaking news, rumors, scores and more - Chat Sports iPhone App
Carmelo Anthony, SF, New York Knicks
Want to get LeBron to stay? Adding one of his best friends in Carmelo should help. Yes, Anthony has his flaws as a player, but he's still an excellent scorer and may be enough to get James to stick around. New York has been trying to get rid of Carmelo for the better part of a year, and while he still prefers to go to the Rockets, the Cavs have always been second on his list. If James re-affirms his commitment to Cleveland with Anthony, this deal could get done. 
The Knicks would likely have to give up more than just Anthony - he's not worth the Brooklyn pick and salary filler - but it'd be something they'd definitely consider.
Cavs Fans - Download Chat Sports on Android today for breaking Cavs news, rumors, scores and more - Chat Sports Android App
Back to the Cleveland Cavaliers Newsfeed
Related Topics: Cavs Rumors, Clippers Rumors, Marc Gasol, Grizzlies Rumors, Pelicans Rumors, Knicks Rumors, DeAndre Jordan, Carmelo Anthony, NBA Rumors, DeMarcus Cousins