The Cleveland Cavaliers may have lost to the Golden State Warriors in the NBA Finals last season, but they weren't that far away from ending the city of Cleveland's championship drought. Here are four things they need to do to win the title next season:
4) Stay healthy in the playoffs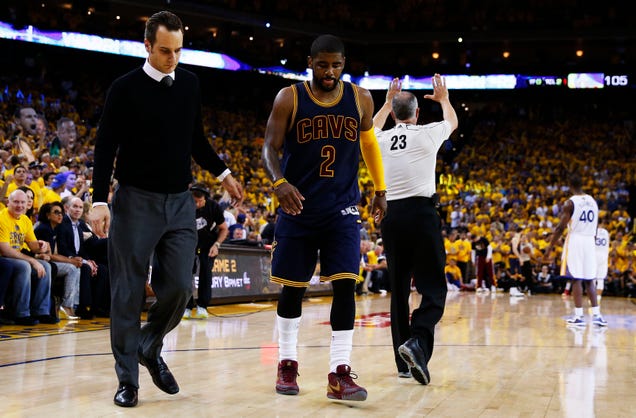 The biggest reason the Cavs lost the last three games in the Finals was because their depth was decimated by injuries. Anderson Varejao, Kevin Love, and Kyrie Irving - all starters - were hurt either during the season or in the Finals (or both), and Cleveland becomes a much more lethal team with a fully healthy supporting cast around LeBron James. Reports indicate that Irving may be out until January with the broken kneecap he suffered in the Finals, but as long as everyone is good to go in the playoffs, the Cavs will be fine.
3) More bench scoring Outside of the Big 3, J.R. Smith was the only other player that was considered to be an offensive player for the Cavs last season. Matthew Dellavedova and Iman Shumpert are defense-first players, and Tristan Thompson and Anderson Varejao are rebounders - but not scorers.
Cleveland added Mo Williams and Richard Jefferson in the offseason to help provide some scoring off the bench, but both players are in the back end of their careers at 32 and 35 years old, respectively. If they can't produce, Cleveland won't be able to beat whoever comes out of the Western Conference.
2) More production from Kevin Love
Kevin Love signed a five-year, $110 million deal to stay in Cleveland, and the Cavs are banking on him to play better than he did last season. He drew a lot of criticism for fading out of games and not being effective offensively last year, which led to him being benched for several fourth quarters, but the Cavaliers are a much, much better team when he's playing at his best. Love's rebounding, floor spacing, and scoring ability create more opportunites for everyone else on the floor, and the Cavs really need that from him if they're going to win a title.
1) Continued dominance from LeBron James
LeBron James showed that he's still the best player in the world last season, but many think that age and the extremely high amount of minutes he's played in his career are starting to have an effect on him. He gives the Cavs a chance to win every game they're in, and could carry them to a title next year - if he continues to be the same type of player.
Follow our Cleveland Cavaliers team page for all the latest Cavs news and rumors!
Back to the Cleveland Cavaliers Newsfeed
Related Topics: Kevin Love, Cavs News, Lebron James, Kyrie Irving