The Cleveland Browns are tasked with a major challenge in 2015 when it comes to the opposing quarterbacks they'll square off with during the regular season. Here's our list of The 5 Toughest QBs The Browns Will Face In 2015.
5. Colin Kaepernick (December 13th)
The 49ers QB has been unjustly maligned the past 5 months or so after he was forced to be something he was not in the last year of Jim Harbaugh's tenure in SF -- a pocket quarterback. If Jim Tomsula lets Kaepernick run with abandon once again, this'll be a VERY tricky late-season showdown.
4. Ben Roethlisberger/Joe Flacco (various)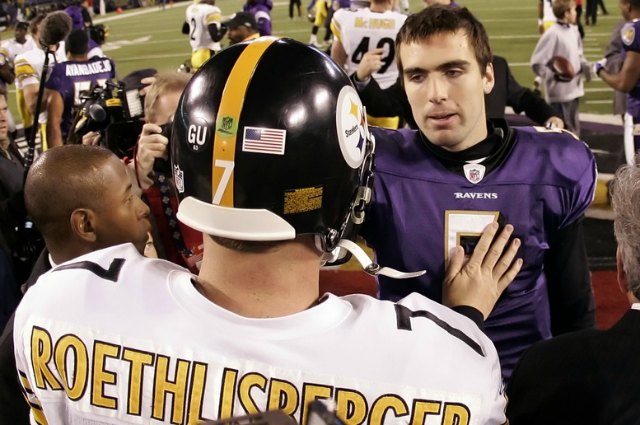 We weren't prepared to give either of these division rivals the nod as they both present major matchup trobules whenever they'll functioning at the top of their games. All we know is that we laughed when we thought about adding Andy Dalton to this list...
3. Philip Rivers (October 4th)
Contract situation aside, Rivers is the ultimate competitor and one of the more deadly pocket passers of the past two decades. With Melvin Gordon providing a youthful spark in the rushing game and a decoy when needed, Rivers will have plenty of time on three- and five-step drops to find his impressive array of receiving options from the tight ends on out.
2. Russell Wilson (December 20th)
Wilson's legs are the X-Factor, but it's his decision making and ability to draw defenses away from his targets with his eyes that makes him so deadly. There are very few who have been so clutch so young, and it'll only get tougher with him leading a Seahawks team with a Super Bowl-sized chip on their shoulders.
1. Peyton Manning (October 18th)
2015 may very well be the future of Hall of Famer's swansong, which means that he'll be all-in and then some on finishing his career with another Lombardi Trophy for the shelf. A motivated Manning is a scary Manning, and that's just who the Browns will be getting in mid-October.
Follow our Cincinnati Bengals team page for the latest Bengals rumors!
Back to the Cleveland Browns Newsfeed