The Cleveland Browns have the No. 2 overall pick in the NFL Draft, and if they want to start turning the franchise around, they can't afford to draft another bust at the top of the draft. Here are three players the Browns must absolutely avoid drafting in the first round:
3) DeForest Buckner, DE, Oregon Ducks
If Joey Bosa goes No. 1 overall as expected, Cleveland might be tempted to reach a bit and draft Buckner, who ESPN's Mel Kiper Jr. has going No. 4 overall in his most recent mock draft. Teams may get caught up with Buckner's physical tools (6'7", 290 lbs.), but he starred on one of the worst defenses in the country. Raw with his technique, Buckner occasionally put up good numbers but never was able to make a tangible impact on a game.
2) Robert Nkemdiche, DT, Ole Miss Rebels
Nkemdiche has loads of talent, but there's also plenty to be concerned about. He's crazy athletic, but he's also very raw in his technique. Though he has all the makings of the dominant DT, he has yet to develop into that because he takes plays off far too often. He's often placed inside the Top 5 of mock drafts, but he could very well end up going outside of that. There are also off-the-field issues with Nkemdiche that raise MAJOR concerns about him.
1) Jared Goff, QB, Cal Golden Bears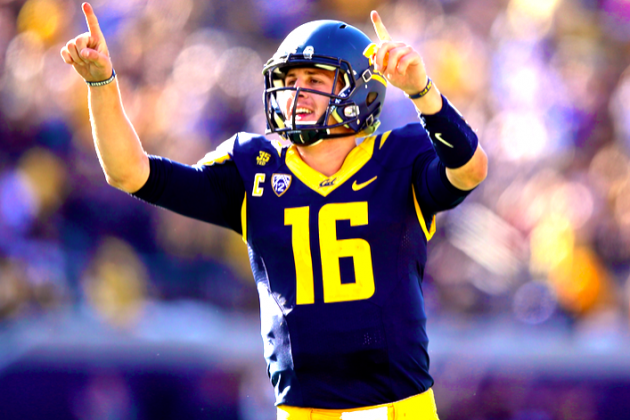 It's no secret that Cleveland needs a quarterback, but routinely taking one just to fill a position of need has put the Browns in this mess in the first place. Though Goff is the top QB prospect in this class, he simply isn't worth drafting to be a franchise quarterback. His eye-popping numbers were a product of Cal's spread offensive system - a system which every quarterback has had big-time issues when trying to learn the NFL game - and his inability to show up in big games (eight touchdowns, eight interceptions combined against Utah, USC, Oregon, and Stanford) is a major red flag. Goff also isn't a winner, going 14-23 in his three-year career.
If Cleveland drafts Goff, they will be looking to draft yet another quarterback in two or three years.
Back to the Cleveland Browns Newsfeed
Related Topics: DeForest Buckner, Robert Nkemdiche, Jared Goff, Browns News, NFL News, Cal Golden Bears Football, Oregon Ducks Football, Ole Miss Rebels Football, 2016 NFL Draft