The Cleveland Browns hold the No. 1 pick and No. 12 overall picks in the NFL Draft after finishing with the worst record in the NFL, and are looking to add a pair of impact players to help them take a step forward next season. However, drafting the wrong player could send them in the opposite direction. Here are three players the Browns would be smart to avoid in the first round of the draft:
1) Mitch Trubisky, QB, North Carolina
Myles Garrett is clearly the best prospect in this draft class, but Cleveland may be tempted to take a quarterback with the top pick simply because of how desperately they need a quarterback of the future. They have failed to get a reliable QB since their rebirth in 1999, and reaching for quarterbacks is the biggest reason why. This is a weak quarterback class and Trubisky is absolutely a work in progress. Cleveland would be smarter to fill other needs (they have plenty) and plan to draft a quarterback in next year's loaded class.
2) Solomon Thomas, DE, Stanford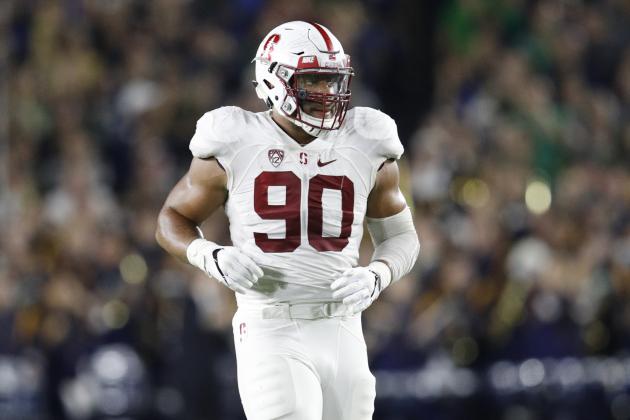 Thomas skyrocketed up draft boards after his dominant performance against Trubisky and UNC in the Sun Bowl, moving from an early second-round prospect to a top 10 or top 15 guy. Thomas certainly has plenty of physical ability, but one-game wonders like that should make teams weary about why he wasn't able to dominate with any consistency. The Browns would be smart to use their No. 12 pick elsewhere.
3) Malik McDowell, DT, Michigan State
A defensive lineman that will be on the board at No. 12, McDowell has all the tools but hasn't lived up to his potential yet. Another reason Cleveland has gotten into this mess is because of the potential of top prospects, only to see them flame out and never come close to meeting that potential (see Barkevious Mingo, Justin Gilbert). Even if McDowell turns into a good player, Cleveland has missed on too many of these to make the same mistake again.
Follow our Cleveland Browns news page for all the latest Browns news!
Back to the Cleveland Browns Newsfeed
Related Topics: 2017 NFL Draft, NFL Draft News, Browns News, NFL News