You know Clemson quarterback (and Heisman finalist) Deshaun Watson. You know head coach Dabo Swinney and his corny but lovable catch phrases ("Bring Your Own Guts!!"), and you probably remember him going bananas on his punter in the ACC Championship Game...
But what else do you really know about the Clemson Tigers?
Clemson is the only undefeated team in the FBS this season and will play Alabama in the National Championship game on Monday in Pheonix, but there's still a surprisingly large lack of knowledge regarding the school and their really, really good football team. To help you out, here's a list of 8 Things 99% Of America Doesn't Know About The Clemson Tigers:
1. Clemson Is ACTUALLY A City
Please reference the map below:
That paw at the tippy top of the state of South Carolina is Clemson! (Well, the county where the town resides). It's an actual city, not just a place full of orange people you see on your TV once every week. We promise.
2. They Don't Play In The Actual "Death Valley"
The average temperature in Death Valley, California can max out at 110 or so in the fall/winter. Clemson's "Death Valley" is a nice and cloudy 66 degrees today. One would suck majorly if you had to wear full pads. One is nice and pleasant. Also, Tigers players only have to dodge opposing tackles, not cacti and rogue tumbleweeds. So, there's that.
3. They Won A National Title In 1981
In all seriousness, the 1981 Clemson Tigers fielded one of the best football teams in college football history. This was a team that rolled Wake Forest, 82-24 -- a scoreline which is unbelievable even if you're playing Madden on Rookie mode. Their 22-15 defeat of #4 Nebraska in the Orange Bowl was the culmination of a 12-0 campaign -- just the program's second unblemished overall record over the course of its history (1948).
4. You May Go Blind If You Stare At The Stands For Too Long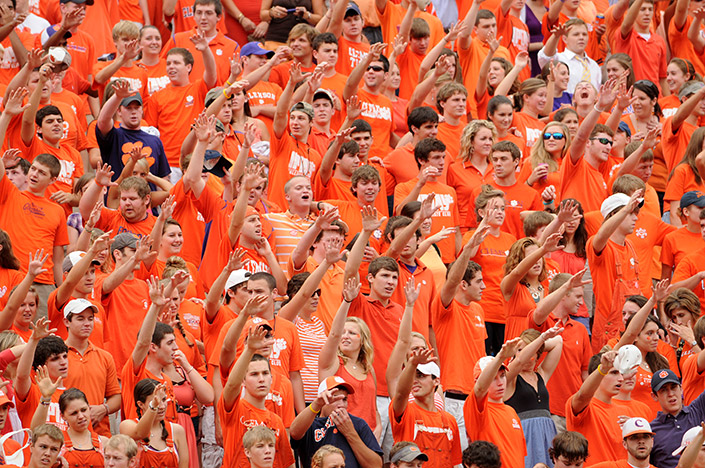 Remember how your mom told you not to stare at the sun for too long? That's the same deal with the stands at Memorial Stadium. SO. MUCH. ORANGE. Also, don't pick your nose. Just mom's rules, don't shoot the messenger.
5. Like Balloons? You'll LOVE Clemson
The kid in us goes nuts during every Clemson pregame ceremony, as thousands upon thousands of balloons are released while the fans in the background go bonkers. The party store that supplies those might be a good investment for your portfolio, FYI.
6. QB Deshaun Watson Jumped Over A Man Last Year
We've watched that tens of times now, and we're still convinced Deshaun is hiding wings in his shoulder pads.
7. Clemson Becomes The 3rd Largest City In South Carolina On Gamedays
Clemson has a population of roughly 19,000 during the school year. It balloons to over 100,000 or so when 81,000 fans plus an extra gaggle of super-friendly tailgaters invade the town. Columbia and Charleston are the only two cities in the state with a standing population of over 100,000 people. 
8. This Is Clemson's First ACC Title Since 2011... ...and its first undefeated regular season since 1981. If you don't know Clemson yet, it's time to take notice. Underdogs no more, Clemson is here to crash the College Football Playoff party with some of the most passionate fans in all of sports, collegiate or otherwise.
Back to the Clemson Tigers Newsfeed
Related Topics: Clemson Tigers football news, Deshaun Watson