The 2015 NFL season is less than three months away, and there's plenty of intrigue to spare surrounding the Cincinnati Bengals as the days tick down. Here's our list of The Top 3 Cincinnati Bengals Storylines For 2015.
1. Can Andy Dalton Match Up To His New Protection?
Drafting Texas A&M standout Cedric Ogbuehi at #21 and potential draft steal Jake Fisher in the second gives Cincinnati flexibility at both the right and left tackle spots. That's key with both Andrew Whitworth and Andre Smith heading into contract years. Regardless, this is a young, talented unit who are poised to give Andy Dalton plenty of time in both the pocket and on the roll out.
Time equals points and points usually equal wins, meaning that Dalton will have no excuses when it comes to leading this offense (and this franchise) to the next step on its championship quest.
2. Just How Good Is Cincy's Running Game?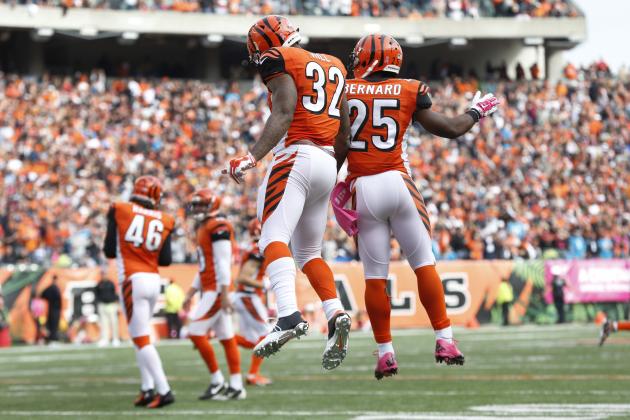 There isn't a more purely talented backfield in the NFL than Jeremy Hill and Gio Bernard. Both players have fantasy breakout material written all over them, and this is the year to draft both of them. A solidified offensive line isn't only going to benefit Andy Dalton. It's going to give these two plenty of holes to work with all season long. It might be difficult for head coach Marvin Lewis and offensive coordinator Hue Jackson to juggle two backs of Hill and Bernard's caliber once again, but there will be plenty to celebrate if he can make the rotation work once again.
3. Can The Defense Rebound From The Injury Bug?
Cincy's defense suffered through a host of key injuries in 2014, and with the lack of a dominant/consistent pass-rushing threat, the Bengals slipped into the bottom half of the league in total defense. Now, with health on their side and a returning Michael Johnson ready to flatten every quarterback he comes across, this defense seems poised to return to the top ten in all defensive metrics come 2015. After making the playoffs regardless of defensive struggles in 2014, a healthy, swarming D-unit could be just the ticket to push the Bengals over the top in a wide-open AFC.
Follow our Cincinnati Bengals team page for the latest Bengals news!
Back to the Cincinnati Bengals Newsfeed