The Cincinnati Bengals have a uniquely storied tradition full of extreme ups and extreme downs, but one thing has always been consistent -- the team has always played host to some of the greatest characters in NFL history. This list compiles the best players to wear a Bengals uniform, and every guy who made this list has plenty of personality to go around. Here's our countdown of The 8 Best Players In Cincinnati Bengals History.
8. RB Corey Dillon
Dillon remains the franchise's all-time leading rusher to this day, posting 8,061 yards with the Bengals on 1,865 carries -- both team records. A true grit and grinder in every sense of the term, Dillon has three-straight Pro Bowl seasons in Cincy (1999-2001).
7. NT Tim Krumrie
There's no defensive tackle in Bengals history that can match the intensity and pure production of the hard-nosed Krumrie. Inducted into the Bengals.com Hall of Fame in 2011, Krumrie played all out in every single one of the 188 games (4th most in team history) he suited up for Cincinnati. A true defensive anchor.
6. WR Cris Collinsworth
Collinsworth was the first Bengals WR in history to post a 1,000-yard receiving season -- a feat he repeated three more times over the course of his stellar career for the Bengals. Now well-known for his work as an NFL broadcasting analyst, Collinsworth's fantasticly productive time in Cincy provided him a unique springboard into the national consciousness.
5. WR Isaac Curtis
A member of the inaugural Bengals.com Hall of Fame Class, Curtis finished his career as the most productive wide receiver in franchise history after hauling in 416 catches for 7,101 yards. Browns played 167 games over his 12 years in Cincinnati, and the dynamic wideout's 53 receiving touchdowns remains third-best in team history.
4. QB Boomer Esiason
The leader of the Bengals' offense during the most successful period in franchise history, Esiason was named the 1988 NFL MVP before leading the team to a Super Bowl berth. Esiason finished his career with the Bengals as the team' 2nd all-time passing performer yardage-wise (27,149) and still holds the team's single-game passing yardage mark with 490 (1990 against the Rams).
3. WR Chad Ochocinco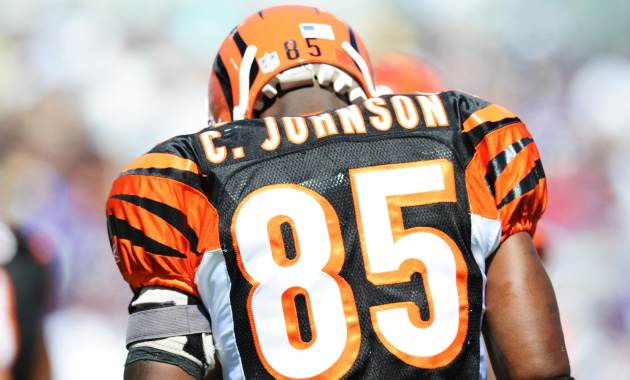 Ochocinco's "look at me" personality may divide traditionalists and the new breed of NFL fans, but there's no denying just how great he was in Bengals orange and black. Chad's 10,783 receiving yards outdistances his next closest Bengals competition by over 3,000 yards, and his 66 receiving touchdowns also remain a franchise record.
2. QB Ken Anderson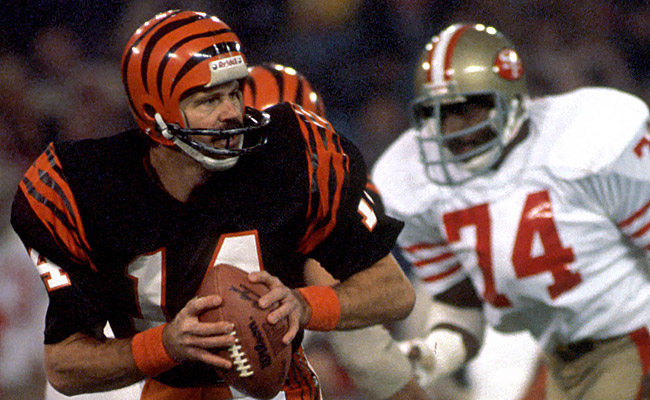 Still the franchise's all-time passing yardage leader with 32,838, Anderson also holds the team record for career touchdown passes (197) and a litany of other statistical bests. Boomer Esiason may have gotten more press because of the team's overarching national reputation during that time, but Ken Anderson remains hands-down the best quarterback in franchise history.
1. OT Anthony Munoz
He's the only Bengals player to have been inducted to Canton, and that's just the tip of the iceberg for one of the greatest philanthropists in the history of the Bengals franchise. After making 11 straight Pro Bowls from 1981-91 as the dominant anchor of Cincinnati's offensive line, Munoz took to helping area kids with his work with the Munoz Foundation.
Follow our Cincinnati Bengals team page for the latest Bengals rumors!
Back to the Cincinnati Bengals Newsfeed