The Cincinnati Bengals are 5-0, with impressive wins over the Oakland Raiders, San Diego Chargers, Baltimore Ravens, Kansas City Chiefs and Seattle Seahawks. Those wins weren't flukes either; the Bengals are a legitimate threat in the AFC. The Bengals have one of the most complete rosters in the NFL and are benefiting from great play from Andy Dalton. Here are four reasons why Bengals fans should be thinking Super Bowl.
Steady Play From Andy Dalton
Every Bengals' fan knows there is good Andy Dalton and bad Andy Dalton. Good Andy Dalton can throw for 300 yards, four TDs and no picks. Bad Andy Dalton can toss four interceptions and cost the Bengals a win. So far this season, it's been nothing but Good Andy Dalton. Dalton has been sharp, completing 68 percent of his passes with 11 TDs and only 2 INTs. To put it simply: Dalton is playing like one of the best QBs in the AFC. If Dalton keeps playing this well, the Bengals' postseason woes will be a thing of the past. Multiple
Healthy Weapons
Part of what has made Dalton successful this season is that his weapons have actually been healthy. In last year's playoff game, the Bengals were down to Mohamed Sanu, Ryan Hewitt, Brandon Tate and Rex Burkhead as Dalton's top receiving options. Ouch. Thankfully for Bengals fans, that's not the case this season. TE Tyler Eifert, WR A.J. Green and WR Marvin Jones are back and putting up great numbers. That doesn't include Sanu, who's played well at times this season, or Gio Bernard, who is a weapon out of the backfield. As long as everyone stay healthy, the Bengals have the weapons to make a deep postseason run.
Dynamite Running Game
The Bengals have one of the best 1-2 punches in the NFL in Bernard and Jeremy Hill. Hill was expected to be the workhorse after a strong end to the season, but Bernard has taken the majority of the carries this season. Hill has 58 carries for 176 yards and 5 TDs. Bernard has 69 carries for 377 yards and 1 TD. Whether it's Hill or Bernard in the backfield (or both), the Bengals have the ground game to control the clock and make life easier on Andy Dalton.
Incredible Defense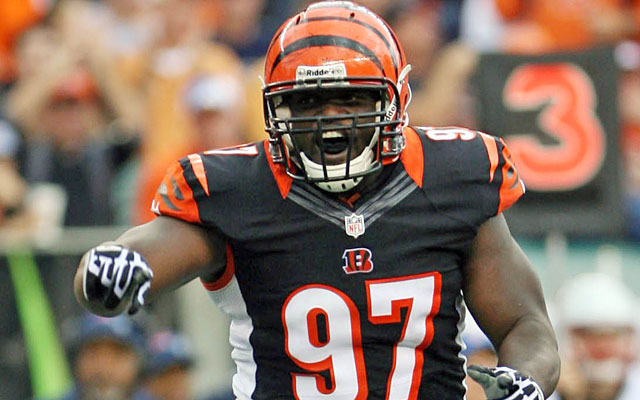 The Bengals' defense has been one of the best in the NFL. They are deep at corner, even if Dre Kirkpatrick still struggles with double moves. Their pass rush has been strong this season. The Bengals sacked the elusive Russell Wilson four times, bumping their season total to 15. The Bengals have nine sacks in their last two games. They likely won't continue to match that pace, but it's impressive nonetheless. Cincinnati has also done all of this without stud LB Vontaze Burfict. Defense wins championships and the Bengals have the defense to win a Super Bowl.
Back to the Cincinnati Bengals Newsfeed
Related Topics: Tyler Eifert, A.J. Green, Bengals News, Andy Dalton, Jeremy Hill