The Chicago Cubs became America's darlings once again this offseason, breaking the bank to improve the roster and infuse some pure optimism into baseball's longest-suffering fan base.
Adding former Tampa Bay Rays manager Joe Maddon, a true #1 starter like Jon Lester, and key complementary pieces like catcher Miguel Montero is plenty of reason to get excited, but is it enough to push this young team over the hump? Here's 3 bold predictions for how this season will go for your Chicago Cubs.
3. Miguel Montero will be the X-factor for the Cubs
The 31-year-old backstop's bat quieted down over his last two seasons with the Arizona Diamondbacks, but it's top-notch work behind the dish that could mean 3-4 wins easily for the retooled Cubs. Besides a solid +4 career defensive runs saved mark and a runners caught stealing mark that usually hovers around 40%, Montero is one of the most intelligent pitch framers in all of baseball. The veteran will turn a ton of would-be balls into strikes for the Cubs, helping Chicago's gaggle of talented pitchers to get ahead in counts and work with their out pitches rather than praying a 3-1 or 3-2 fastball won't get creamed.
2. Kris Bryant & Anthony Rizzo will combine for 50 home runs (or more)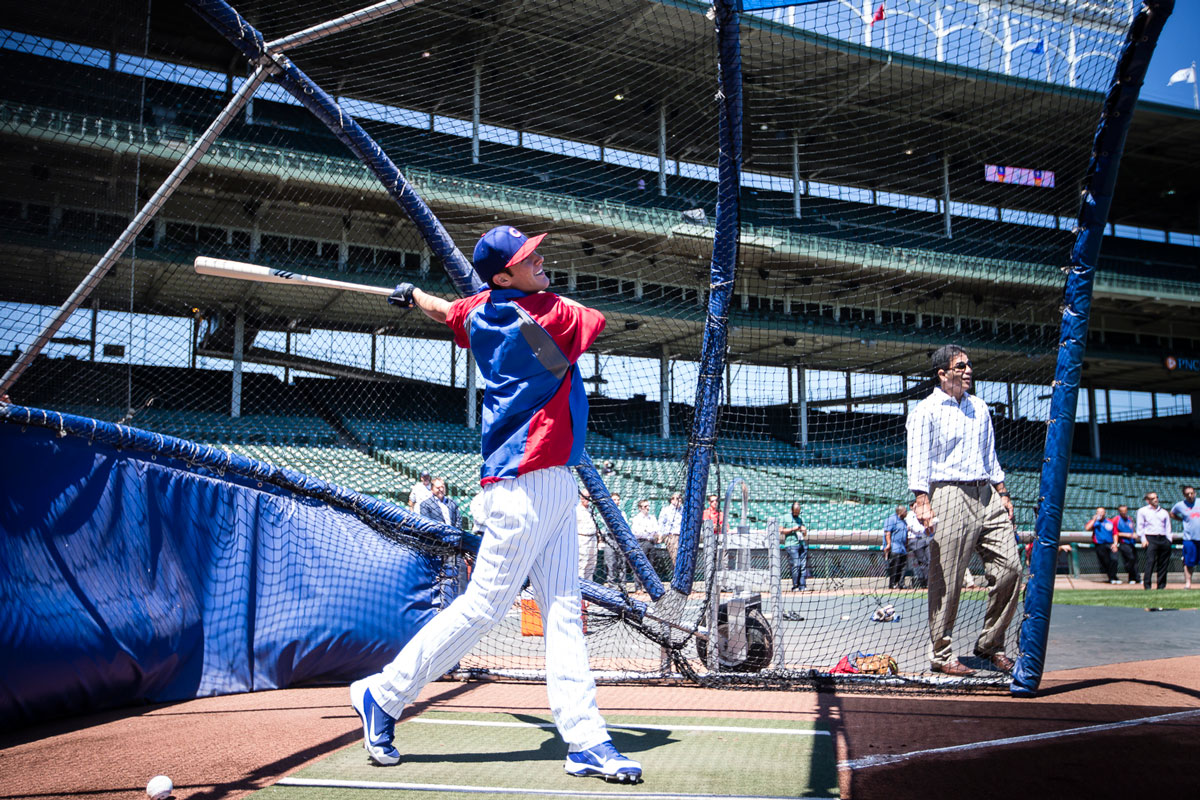 Whether the Cubs bring Bryant up to start the season or sometime in May, it's only a matter of time before baseball's #1 prospect pairs up with first baseman Anthony Rizzo as one of the most feared 3-4 combos in all of the game. By matter of time, we mean months not years. Expect Rizzo to land in the 30-35 dinger range once again, and Bryant to follow suit with a June-August tear of Rookie of the Year proportions. 50 home runs combined? We're taking the over.
1. Meaningful baseball in September/October? You better believe it..
If Lester and Jake Arrieta combine for 400 innings of pure awesomeness and uber-prospects such as Bryant and Jorge Soler smash through the glass ceiling like they're more than capable of, this is the best team in the National League Central. Of course, youth is a scary proposition to bet on and things can always go awry, but Theo Epstein and Jed Hoyer have done such a masterful job building both the MLB product and organization itself that Chicago has a bevy of assets to work with if they're in the race around the trade deadline.
All of this adds up to a legitimate shot - naysayers be damned - for the Chicago Cubs to jump into the Delorean, turn the dial to 2015, and bring home a World Series trophy to the team's deserving faithful.
Follow our Chicago Cubs team page for the latest Cubs rumors!
Back to the Chicago Cubs Newsfeed