When Carmelo Anthony re-signed with the Knicks,  there was just no possible way for the Bulls to salvage this off-season, right? To add insult to injury, the ancient Pau Gasol became the headliner of the Bulls' 2014 free agent shopping list. It's getting hard to understand how this happens to the Bulls every single year now. To be frank, I was pissed, and I wanted to incinerate all of my Bulls' apparel – straight up, LeBron leaving Cleveland in 2010-style.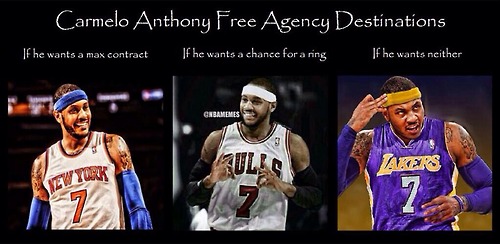 Well now that I've had some time to cool off, and cut the psycho ex-girlfriend persona about the Bulls – "I seriously hate you, don't ever talk to me again, I never loved you"  – you know what I mean.  I'm back, though, and I'm all in on this squad.
I'm actually wearing my Carmelo Anthony sweepstakes silver medal right now, my Dougie Fresh (McDermott) jersey is hanging in the closet, and I've been watching Nikola Mirotic flat out dominate Euroleague peons on YouTube in my cubicle all day. That's how much I'm over you, 'Melo.
Just when everything was starting to settle in, Kevin Love hops on the scene, and of course the Bulls are immediately in the race to acquire him. Can we please just have one day that doesn't involve the Bulls and a blockbuster deal? I've been refreshing my Twitter feed like an addict; it's just not healthy.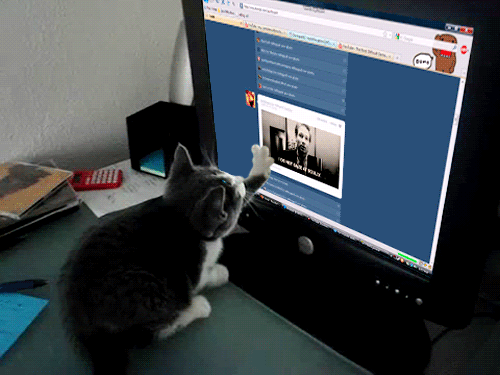 There have been numerous rumors covering what it would take to get Kevin Love out of Minnesota and into Chicago, but this seems to be the consensus offer on the table:
Minnesota Timberwolves receive: Taj Gibson, Doug McDermott, and Nikola Mirotic
Chicago Bulls receive: Kevin Love
Here we go again, Chicago. Stuck right in the middle of a franchise-altering move. Is this offer by the Bulls simply a ploy to scare the Cleveland Cavaliers into sweetening their offer for Love?
Are the Bulls really making a run at him? Do the Bulls part ways with their incredible depth in order to get one of the best players in the NBA? Or do they pass on Love, and see if this current roster has what it takes to win an NBA title? It's the burning sports debate in Chicago right now - what should the Bulls do?
Why the Bulls SHOULD make the trade for Kevin Love
Before any of these arguments go any further, let's all assume that Derrick Rose stays healthy this season. That isn't to say that he'll be in the MVP race again, it just assumes that he'll be the Bulls' starting PG every night.
Building off that, this side of the argument looks nearly impossible to turn down. Adding Kevin Love undoubtedly gives the Bulls the best front court - and probably starting 5 - in the entire NBA.
[embed]http://www.youtube.com/watch?v=WoLS0t6wzcs[/embed]
PG – Derrick Rose (2010-2011 NBA MVP)
SG – Jimmy Butler
SF – Mike Dunleavy
PF – Kevin Love (2013-2104 All-NBA Second Team)
C – Joakim Noah (2013-2014 All-NBA First Team)
Add in a bench of Pau Gasol, Tony Snell, Kirk Hinrich, and Aaron Brooks, amongst others, this team would have to be title favorites.
Would opponents ever grab another rebound again? Noah at 11.3 and Love at 12.5 REB per game down low would be the equivalent of Billy Madison playing dodgeball with Miss Lippy's kindergarten class – now you're all in big, big trouble.
[embed]http://www.youtube.com/watch?v=qnKLaP0Es3s[/embed]
Not often do you see two double-double machine all-stars as your starting center and power forward, along with a recent MVP at point guard. Really, how many times do you get a chance to acquire a player of Love's caliber? What a Big 3 that would be…
Why the Bulls SHOULDN'T Trade for Kevin Love
What do the Bulls have right now that no other team in the Eastern Conference can match? Depth, depth, and more depth. Some will argue: you can always find serviceable guys to add depth to your roster, but when you have the chance to add a star, you do it.
I completely see that side of the story, but this Bulls team is DEEP. Coach Thibs is constantly scrutinized for playing his starters for too many minutes – leading to injuries – and leading to guys running out of gas in the playoffs. Now finally we have the solution!
PG – Derrick Rose
SG – Jimmy Butler
SF – Mike Dunleavy
PF – Pau Gasol
C – Joakim Noah
Yes, this is almost the same as the previous starting lineup, just missing that Kevin Love guy we keep bringing up. The bench depth and rotation is what makes passing on Love the smart decision.
Gibson and Mirotic will be able to rotate in with Gasol and Noah, keeping them fresh and also adding different offensive dynamics. Dunleavy and McDermott will stretch the floor for guards to penetrate the paint, and will be ready and able to knock down the open 3. Brooks and Hinrich will provide much-needed relief for the guards, and a rapidly-improving Tony Snell will nail down a spot in the rotation.
To Trade, or Not to Trade? That is the Question.
I've been on the fence about this since the news of the rumor first broke, but my heart is telling me to say NO to Kevin Love. The asking price is just too steep at this point.
The sky is the limit for McDermott and Mirotic, and Gibson himself has improved drastically every season he's been in the league. The kicker for me though, is breaking up this team's chemistry.
Taj Gibson has reiterated that Chicago is where he wants's to be, "Captain" Kirk Hinrich is returning next season, and Joakim Noah has become the heart and soul of this organization. If we part ways with Taj, we also part ways with the fire and leadership he brings night in and night out. Taj Gibson has become the epitome of Chicago Bulls basketball, and his importance goes beyond the stat sheet.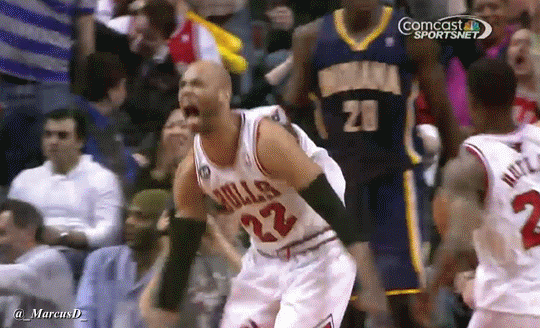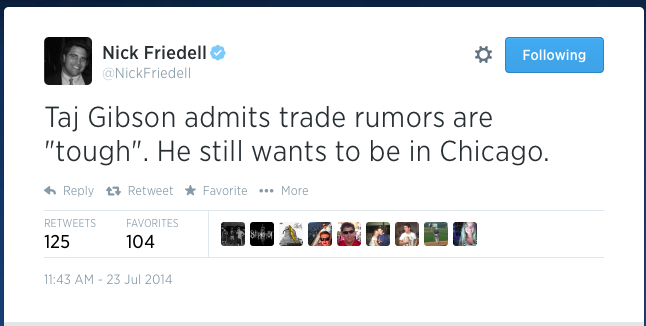 The Bulls have built a core that plays with passion and an all-in mentality under coach Thibodeau. These rookies and the newly-signed free agents will learn the Bulls' way of basketball from the veterans. There's a reason nobody wants to play the Bulls come playoff time - they're one of the few real teams left in the league. Let's give this group a shot...I'm off the Kevin Love bandwagon, are you?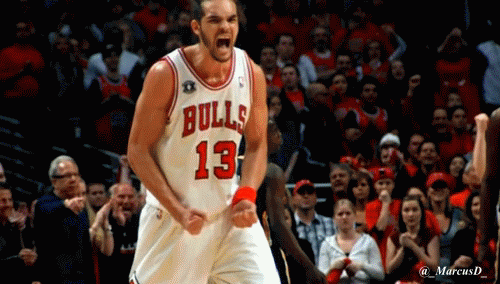 Back to the Chicago Bulls Newsfeed