The Chicago Bulls have officially amnestied Carlos Boozer.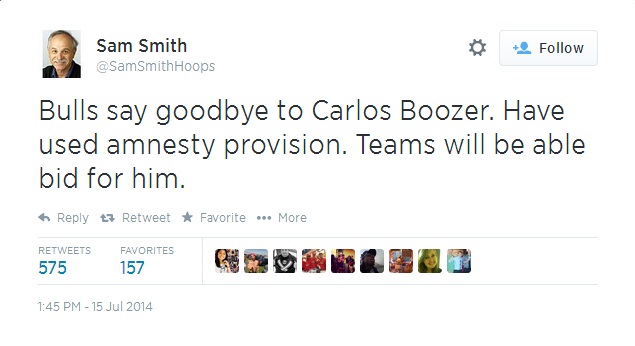 Boozer played in 78 games for Chicago last year, averaging 13.7 points and 8.3 rebounds per contest. His 28.2 minutes per game were his lowest since his rookie year in Cleveland.
Chicago was hoping to find a sign & trade deal that would allow them to clear Boozer's contract, but they were unable to find a trade partner. With Boozer now a free agent, the Indiana Pacers are believed to be the top suitor, although several other teams - including the Knicks and Lakers - are interested. We'd expect more teams to emerge over the next 48 hours as the market for the veteran forward heats up.
Related:
Predicted Landing Spots For The Top 15 Free Agents
ESPN Analyst Has Been Told Kevin Durant Would Only Leave OKC For One Team
Back to the Chicago Bulls Newsfeed