The Chicago Blackhawks have put a slow start to the 2015-16 NHL season behind them with four straight victories, looking a lot like the team who upended the Tampa Bay Lightning to bring home the Stanley Cup last postseason. We're seeing a spark in this Blackhawks squad which has us convinced that last year's victory parade was just a precursor to the insane bash Chicago will put on next summer. Here's 3 Reasons Why The Blackhawks WILL Repeat As Stanley Cup Champs.
1. The Core Four
"Any time you've got Toews as your captain and Duncs and Seabs right there next to him, you know you're going to have a pretty good chance to win," Patrick Kane said recently. "I think those are our leaders. We have some core guys in here where we try to follow their lead. It seems like we go as far as our best players take us."
The fabulous foursome of Kane, Jonathan Toews, Duncan Keith and Brent Seabrook represent an embarrassment of riches for the NHL's model franchise. Each are dynamic enough to take over shift after shift on their own accord, but their camaraderie and desire not to let the others down creates the most unique and effective core group of stars on any NHL team going today.
2. Corey Crawford
After stonewalling top-tier competition to lead Chicago to a second Stanley Cup, Corey Crawford has put his critics to bed permanently. In short, Crawford is one of the most consistent goaltenders we've seen in decades and stands as the best playoff goalie to lace up his skates since Patrick Roy. From a regular season standpoint, Crawford has played just under 60 games per year over the past four seasons. He doesn't get injured, or at least he works through his ailments. He doesn't get rattled. He's the essence of stability and a goaltender who stands on his head in the "big games" better than anyone going.
3. Dynastic Intentions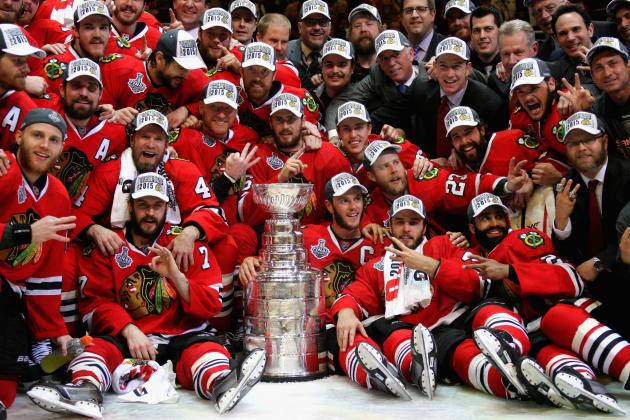 It's a bit offensive to watch hockey analysts around North America openly wonder whether or not the Blackhawks are a dynasty following their third Stanley Cup in six years, simply because they haven't put together back-to-back titles during their run. Five Conference Finals in seven years means something, as does the team's unwavering "prove it" attitude.
"We have a big challenge ahead of us," coach Joel Quenneville said in advance of the 2015-16 campaign. "Never tougher than it is going to be this year. It's all new. It's all fresh. We create our own incentive here by what we do and proving that we can make the playoffs and go from there and set high goals after we get there."
This is a team that's never satisfied, mirroring the ambition and passion of the Windy City fans. This is a chance to cement an undeniable legacy in the same vein of the Edmonton Oilers and Detroit Red Wings of yore. Chicago won't let an opportunity like this slip away.
Back to the Chicago Blackhawks Newsfeed
Related Topics: Patrick Kane, Jonathan Toews, Corey Crawford, Brent Seabrook, Patrick Roy, Duncan Keith