*LAST UPDATED 1/14/2015*
The Chicago Bears were expected to make the playoffs this season, but after the team limped to a 5-11 record in 2014 under head coach Marc Trestman, the front office decided to let him go after just his second year on the job...and they also got rid of GM Phil Emery for good measure.
So, who are the top candidates to replace Trestman in Chicago?
Follow our Chicago Bears page for the latest Bears news!
6) Mike Shanahan, former Broncos/Redskins Head Coach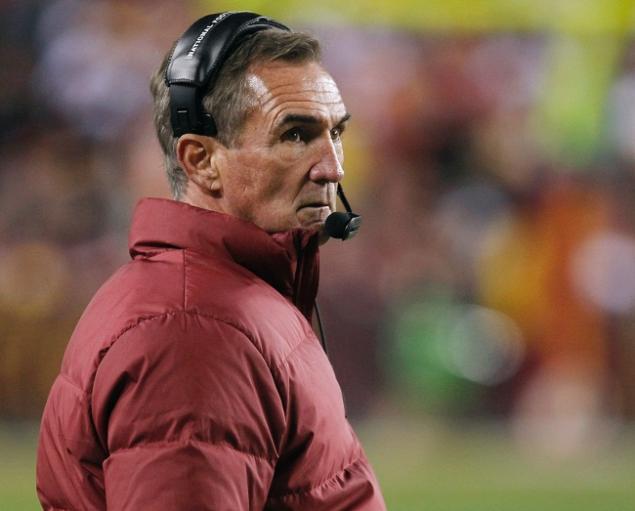 Shanahan is interested in returning to coaching, and is only two years removed from leading the Washington Redskins to the playoffs (which seems like a real feat nowadays), but he'll want to have some front office input as well. If the Bears are willing to give him that, Shanahan is a proven commodity who would command attention from everyone in the locker room.
*1/5 Update* Shanahan is gaining steam elsewhere, with the Bills, Raiders and 49ers all more likely destinations. It's too early to officially write him off as a coaching candidate in Chicago, but his stock certainly isn't rising in the Windy City.
*1/9 Update* The Bears were expected to interview Shanahan once they hired a GM, and now that they have, it seems to be only a matter of time until they meet with him.
*1/14 Update* Shanahan was never at the top of Chicago's wishlist, and at this point he's probably (although not officially) out of the running. Don't hold your breath.
5) Doug Marrone, Former Buffalo Bills HC
*New Addition* Marrone might not be leading the pack of candidates, but the Bears have brought him in for interviews and see him as a solid - if not earth-shaking - candidate. His Tuesday interview reportedly went well, but several other candidates would have to pass for the Bears to make him an offer.
4) Dan Quinn, Seattle Seahawks Defensive Coordinator
Quinn will bring a winning mentality from Seattle, and that's something this team needs to get them back on top. His defensive background would bring the Bears back to their defensive-minded focus of the 80′s and 90′s, and he could drastically improve a unit that was among the worst in the league in 2014. Chicago interviewed him last Friday, making him the first candidate to formally interview for the job, and he remains a top contender.
*1/9 Update* Like Gase, Quinn interviewed with Chicago last week during Seattle's bye week, and the team is still very interested in Quinn. However, Quinn is the top candidate to take the Jets job.
*1/14 Update* With the Jets job off the market, Quinn reportedly wants the Falcons job...so unless Atlanta gets antsy and hires someone else (likely Teryl Austin) before Quinn's playoff run with the Seahawks finishes, he's no longer one of the top contenders for the Bears job.
3) Adam Gase, Denver Broncos Offensive Coordinator
Gase is only in his second season as the offensive coordinator in Denver, but he's already helped engineer the best offensive season in league history. He's proven he can handle star players and their egos, and would find ways to keep all of Chicago's offensive weapons happy. Gase will be the most sought-after candidate this offseason after 49ers head coach Jim Harbaugh, and for a coach looking to win right away, Chicago is the best job available. The Bears wasted no time in reaching out to Denver about setting up an interview, which took place last week.
*1/9 Update* Gase interviewed with Chicago last week as the team wanted to talk to him before Denver's playoff run started, but any new developments won't happen until Pace has a chance to talk to him once the Broncos are eliminated from the postseason.
*1/14 Update* Gase is free to pursue other opportunities now that John Fox is out in Chicago...but it sounds like the Bears are more interested in Fox than they are in Gase at this point. The 49ers have emerged as his top suitor, but Chicago isn't completely out of the running yet.
2) Teryl Austin, Detroit Lions Defensive Coordinator
Austin doesn't have the same kind of experience as some of the other candidates on this list (he has only one year under his belt as a defensive coordinator), but his colleagues, competitors and bosses have raved about him all year long. Austin will definitely be more of a wild card than some of the other candidates out there, but Ryan Pace is seriously considering him as of 1/14.
1) John Fox, former Denver Broncos HC
*New Addition* Fox emerged as a leading candidate for the Bears job before he'd even cleaned out his desk in Denver. One of the few candidates with significant coaching experience, Fox has a 118-89 overall record and seven playoff appearances in 13 seasons as a head coach. His Broncos teams did tremendously well in regular-season play, but failed to bring home the Super Bowl his bosses were after.
Fox is already being mentioned along with possible OC candidates - it sounds like former Browns OC Kyle Shanahan is a target, per the Chicago Tribune.
For the latest on this story and other coaching rumors, set up a free account with Chat Sports today!
RELATED READING:
How The Bears Can Dump Jay Cutler's Contract After The Season
Back to the Chicago Bears Newsfeed