The start of the 2017 NFL Draft is just over a week away, and the Chicago Bears hold the No. 3 overall pick. The Bears could try to move down, but it's a bit more likely they keep the pick. The Bears are still rebuilding and hope to add an impact player early to help continue that process. With that in mind, here are the three players the Bears are the most likely to take with the No. 3 overall pick.
3. Marshon Lattimore, CB, Ohio State
I suspect the Bears will add a defensive back at No. 3 (the lone exception is at No. 2), with Lattimore serving as the top corner in this year's draft. He's not a reach at No. 3, but taking Lattimore doesn't quite fill as big a need. With Chicago signing Prince Amukamara, B.W. Webb and Marcus Cooper, they can afford to look at another option at No. 3. 
2. Solomon Thomas, DL, Stanford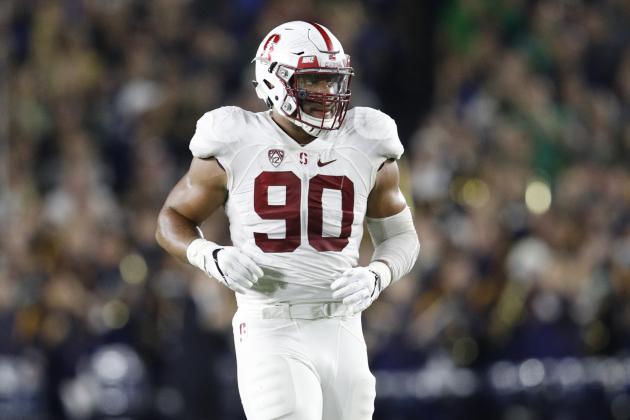 There's a solid chance Thomas goes No. 2 to the 49ers. If he doesn't, the Bears could snag him. He's a bit on the small size to be a 3-4 DE, but he can bulk up and did play that role at Stanford. Jonathan Bullard and Akiem Hicks are on the roster, but Thomas would give the Bears an impact player on the defensive line. 
1. Jamal Adams, S, LSU
This is who I have the Bears taking in my NFL Mock Draft, so naturally Jamal Adams is at the top. He fits well with Quinton Demps, who is more of a free safety (although OSU FS Malik Hooker is an option as well and was fourth on this list). The Bears need impact players on the defensive side of the ball and Adams fits that bill. He's a well-rounded strong safety who will thrive near the box. 
Follow our Chicago Bears team page for all the latest Bears rumors or download the Chat Sports App!
Back to the Chicago Bears Newsfeed
Related Topics: Jamal Adams, Bears News, Marshon Lattimore, Bears Rumors, Solomon Thomas, 2017 NFL Draft, NFL Draft