What's the hardest thing about playing fantasy football? For us, it's not drafting, waiver wire pickups or throwing chairs at the wall when we bench the wrong guy. It's picking a freaking awesome team name. However, we've finally settled on some solutions to all of this. Here are the five best Carolina Panthers team names we could come up with:
Teenage Newton Ninja Turtles
This one's pretty self explanatory.
Wham! Bam! Thank you Cam!
Chances are Newton will be carrying your team like he does with the Panthers, so show him some appreciation.
Sex Panthers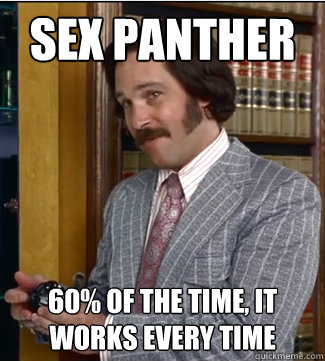 Our personal favorite. 60% of the time, we win everytime.
Luke Kuechly Home Security
Because those commericals are hilarious.
Show Me Your TD's
Thomas Davis or touchdowns - or Thomas Davis touchdowns - this pun will get an immature laugh.
Follow our Carolina Panthers team page for all the latest Panthers news and rumors!
Back to the Carolina Panthers Newsfeed
Related Topics: Fantasy Football, Carolina Panthers