The Carolina Panthers are the story over the NFL season, posting a surprising 13-0 record and are the only undefeated team remaining in the league. Still, despite their dominance this season, some don't think of the Panthers as the favorites to win the Super Bowl.
We disagree. Here three reasons why the Carolina Panthers will win the Super Bowl this year:
3) Supreme ball control and physicality
In an age of high-flying, up-tempo offense, Carolina has mastered the old-school style of ground-and-pound, punch-you-in-the-mouth style of football. They rank second in the NFL in rushing yards per game and lead the league in time of possession, showing how well they've been able to control the tempo of every game they've played in. Carolina's style of football is perfectly suited for playoff football, and there's no reason to think their recipe for success suddenly won't work in January.
2) Absolutely dominant defense
You know about linebacker Luke Kuechly and cornerback Josh Norman, but what this defense is doing as a whole is extremely impressive. They rank third in the NFL in total defense (307.8 yards allowed per game) and fourth in points allowed per game (18.7) and are peaking at the right time, holding four of their last five opponents to 16 points or less. Most impressively, the lead the lead in takeaways with 33, which is eight more than anyone else has this season.
If the Panthers don't stop you, they'll take the ball away from you.
1) Cam Newton's MVP season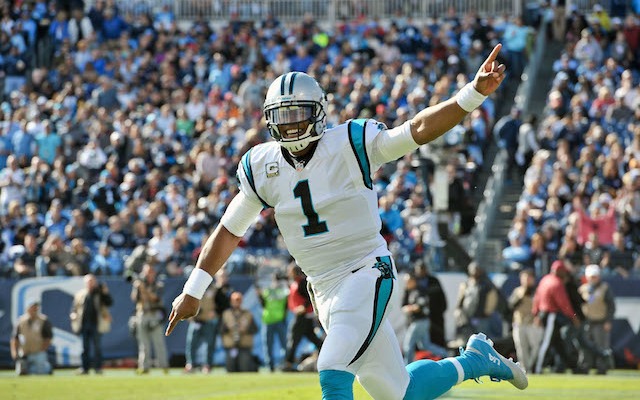 Critics still doubt Cam Newton because he doesn't play the quarterback position in a traditional manner, but they aren't paying attention to how dominant he is on the field. Despite an obvious lack of notable offensive weapons, Newton has thrown for 3,026 yards and 28 touchdowns with just 10 interceptions while rushing for 480 yards and seven more scores. Most importanly, he's elevated the level of play of everyone around him so much that he's led a group of anonymous offensive players into an undefeated title contender.
Back to the Carolina Panthers Newsfeed
Related Topics: Panthers News, Luke Kuechly, NFL News, Cam Newton, Super Bowl, Josh Norman