The Carolina Panthers may have lost in the Super Bowl, but they're still one of the favorites to win the championship in 2016. Carolina is looking to the draft to help upgrade some weakness to help them stay at the top of the NFC next year, but drafting the wrong players could send them in the wrong direction. Here are three players the Panthers should avoid in the first round of the draft:
3) Jaylon Smith, LB, Notre Dame Fighting Irish
Smith has loads of talent, and the prospect of him falling to Carolina would have been a pipe dream before Notre Dame's bowl game this season. Unfortunately, Smith's knee injury in that game is severe. Initial medical checks at the Combine indicated that Smith had nerve damage, which kills his draft stock. While Smith had a ton of ability, his injury red flags mean he's not worth taking on Round One.
2) Noah Spence, LB, Eastern Kentucky Colonels
Much like Smith, Spence has talent. However, his off-the-field issues are cause for serious concern as he was banned from the Big Ten after repeated failed drug tests. To make matters worse, Spence also reportedly didn't interview well at the Combine, a less-than promising sign for a player with red flags. A gifted pass rusher, Spence still needs work in coverage to make it in the Carolina's scheme. The Panthers might not need to make a decision on Spence, because he could already be off the board, but if he's not, Carolina should let someone else take a risk on him.
1) Corey Coleman, WR, Baylor Bears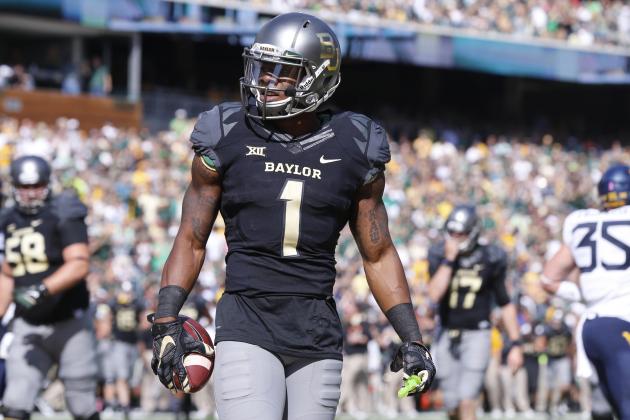 Coleman won the Bilentikoff Award given to the best college wide receiver in the country last season, but there's reason to think Coleman won't be as successful in the NFL. His toughness and competitiveness should keep him in a league for a relatively long time, yet he won't live up to his projected first-round draft status. He lacks ideal size at 5'11" and 194 lbs, is known to struggle with drops from time to time, and doesn't have an advanced route tree. Plus, receviers from Baylor head coach Art Briles' system has struggled with the transition to the NFL. The Panthers would be smart to take another receiver.
Back to the Carolina Panthers Newsfeed
Related Topics: Panthers News, NFL Draft, NFL News