The 13-0 Carolina Panthers are the only remaining undefeated NFL team, and they're led by our prohibitive favorite for the 2015 NFL MVP award. Here's 3 Games That Show Why Cam Newton Is The 2015 NFL MVP.
Newton crushed the Titans' spirits early, completing his first 11 passes -- the longest streak of his NFL career. Throwing a touchdown and running for another, Newton completed 86% of his passes and played the role of game manager to perfection. Carolina's defense is good enough to bleed opposing offenses dry, and they need a quarterback who understands his role and adjusts his game accordingly.
Cam did just that in this one, opting for short & safe passes while setting up the running game. The Panthers went without a turnover and had the ball for 60% of the game clock. That's due in large part to Newton's intelligence and ability to keep to a plan.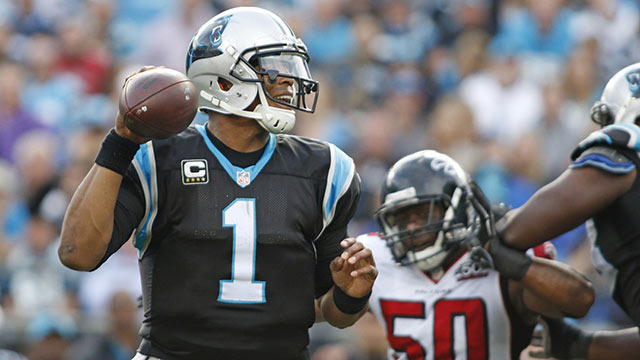 Newton has been on another planet over the past few weeks, and this past Sunday's gem against the Falcons was his banner performance in a year full of big-time efforts. Cam went 15-of-21 for 265 yards, posting a season-best 12.62 yards per attempt. He threw three touchdowns and no picks in the team's blowout win, posting a near-perfect QB rating of 153.3. He barely ran in the game, showing how effective he can be when he remains in the pocket.
The Panthers outgained the Falcons 424-230 -- thanks in large part to Newton's masterful job running the offense. The marquee victory of the season to date, this was the win which announced the Panthers as legit Super Bowl contenders. Newton didn't post his best stat line in this one, but he showed guts when Carolina needed him late -- leading the Panthers on back-to-back TD drives of 80 yards in the fourth quarter to erase a 23-14 deficit. He capped off the comeback with a 26-yard go-ahead dart to Greg Olsen with 32 seconds left.
The "Most Valuable" Player isn't the guy who puts up pinball numbers each and every week. It's the guy who stands tall when the chips are down, throwing haymakers with his back against the wall. This is Newton's defining performance of the season.
Back to the Carolina Panthers Newsfeed
Related Topics: Panthers News, Greg Olsen, Cam Newton