Cal has failed to live up to their top 15 national preseason billing, but the Bears have turned it on late, winning nine of their last 11 games heading into the tournament. Here's everything you need to know about the Cal Golden Bears:
Resume:
Record – 23-10 (12-6 in Pac-12)
RPI – 12
Strength of Schedule – 15
Starting Lineup:
G Tyrone Wallace (Sr.) – 14.9 ppg, 5.3 rpg, 4.6 apg
G Jabari Bird (Jr.) – 10.3 ppg, 3.4 rpg

F Jaylen Brown (Fr.) – 15.1 ppg, 5.5 rpg
F Ivan Rabb (Fr.) - 12.5 ppg, 8.6 rpg
C Kingsley Okoroh (So.) – 1.9 ppg, 1.4 rpg
Key Player:
Jaylen Brown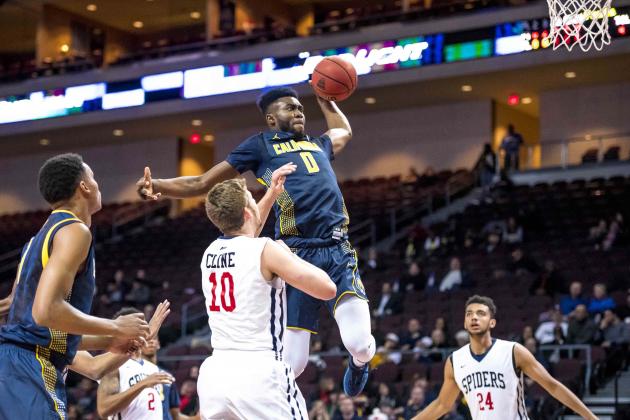 Brown hasn't lived up to his preseason promise as the No. 3 recruit in the 2015 recruiting class, but his strength and athleticism have made him a very big factor for the Golden Bears. His jumper still needs work (30.9 percent from three-point range), but is excellent at attacking the basket, finishing around the rim, and is a lockdown defender when he wants to be. Whenever Brown goes into attack mode, he's hard to stop.
Biggest Strength:
Defense
For all the star power Cal has in Brown, Rabb, and Wallace, the Golden Bears have become a defense-first team under head coach Cuonzo Martin. They give up just 66.6 points per game (53rd in the country) and, more impressively, rank 12th in defensive efficiency.
Biggest Weakness:
Late game situations
Seven of Cal's 10 losses have come by six points or less, and they had a late lead in a large majority of those games before faltering in the closing moments. They stop running their usual offense in favor of isolation plays in the last few minutes of close games, and as a result, the ball stops moving and whoever has the ball is forced to take a tough, contested shot.
It's maddening to watch them take themselves out of rhythm time and time again, but this seems to be Martin's preferred way to close games. It hurt them in the regular season, and it will hurt them again in the tournament.
Outlook:
Off pure talent alone, Cal can play with anyone, and that in itself could lead to a Sweet 16 run. However, I think their late game struggles will cause them fall victim to an early upset.
Back to the Cal Golden Bears Newsfeed
Related Topics: Jaylen Brown, Cal Golden Bears Basketball, College Basketball, NCAA Basketball, NCAA Tournament, Pac-12 Basketball