The Buffalo Bills hold the No. 19 pick in the first round of the NFL Draft after coming up just short of making the playoffs. The draft will play a key role for the Bills as they try to pick an impact player that will help them reach their goal of making the playoffs. Here are three players they are targeting in the first round of the NFL Draft:
3) Kenny Clark, DT, UCLA Bruins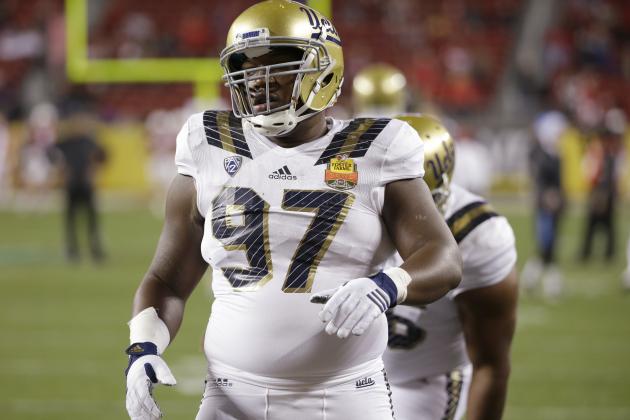 There's a small chance that Clark won't be on the board for the Bills, but if he lasts, he's an option worth serious consideration. Clark has a bright future and landing him would be a major boost for Buffalo's strong defensive line. At 6'3"and 315 pounds, he has rare quickness for someone his size and used it to get into opponent's backfields with ease, getting 75 tackles last year. Putting him next to Marcell Dareus on the side would be a quarterback's nightmare (along with Jerry Hughes coming off the edge), and running backs would have a hard time finding any running room.
2) Paxton Lynch, QB, Memphis Tigers
Lynch made his name known following an upset win over Ole Miss, but was one of the best quarterbacks in the college game all season long. Hee has incredible size and great arm strength, and more importantly, doesn't commit many turnovers. Buffalo seems content to move forward with Tyrod Taylor as their quarterback, but drafting Lynch to be their quarterback of the future makes a lot of sense. There will be a bit of a learning curve for Lynch, which is why it would be good for him to sit for a year or two, but he has all the tools to be a franchise QB.
1) Reggie Ragland, ILB, Alabama Crimson Tide
Linebacker is probably Buffalo's biggest need heading into the 2016 season, and Ragland is a guy that can not only step in and be a star right away, but be a star for the Bills for the next decade. The leader of Alabama's championship defense last year, Ragland is excellent at stopping the run and underrated in pass coverage - making him the kind of all-around guy that Rex Ryan loves.
Back to the Buffalo Bills Newsfeed
Related Topics: Paxton Lynch, Kenny Clark, Reggie Ragland, NFL Draft News, NFL News, NFL Draft Rumors, Bills Draft News, Bills News, Bills Draft Rumors, NFL Draft, 2016 NFL Draft