The Buffalo Bills hold the No. 20 pick in the first round of the NFL Draft after coming up just short of making the playoffs. Although the Bills have several key free agents, a lack of cap space means they could lose a few players and won't be able to fill their needs in free agency. That means the draft will play a key role for the Bills and they need to make a strong selection. However, drafting a bust early could cause them to take a step back next year. With that in mind, here are three players the Bills need to avoid in the first round. 
3. Jaylon Smith, LB, Notre Dame Fighting Irish
Before the NFL Combine, the idea of Smith being in play for Bills was highly unlikely. He has top five talent and would have been a strong fit in Buffalo. But then came the report that the knee injury he suffered at the end of last season resulted in nerve damage. That's the kind of injury that will result in teams taking Smith off the board entirely. While Smith has Patrick Willis-type potential, his injury means the Bills simply can't risk making him a first round pick.  
2. Scooby Wright, MLB, Arizona Wildcats
Wright has talent, but he shouldn't be the Bills' first round pick. He had a monster sophomore season, but took a step back in his junior year because of injuries. While the Bills could use an upgrade at linebacker, Wright isn't the answer. Those injury issues might not go away and Wright is better off being taken on Day Two round. He's a fun player to watch, but the Bills are better off hoping Reggie Ragland slips to them than reaching for Wright. On the bright side, a poor combine means Wright should no longer even be in consideration for Buffalo. For more Bills news, download the Chat Sports Android and iPhone app. 
1. Robert Nkemdiche, DT, Mississippi Rebels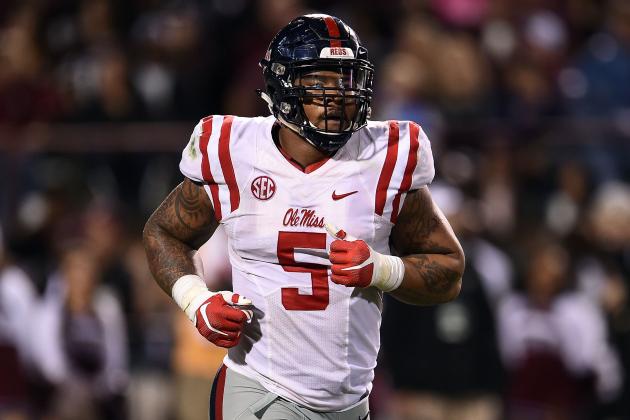 Unlike the previous two names, Nkemdiche makes sense as a first round pick. While he fits in both a 3-4 and 4-3 scheme and has been linked to Buffalo in many mock draft, the Bills need to avoid Nkemdiche. There are numerous red flags surrounding Nkemdiche. He was arrested for marijuana possession after falling off a hotel balcony, which will cause teams to worry about his off-the-field character. He lacked a motor and didn't produce as much as he should have at Ole Miss. There's no doubting Nkemdiche's talent, but there are enough red flags that he could end up being a bust.  
Back to the Buffalo Bills Newsfeed
Related Topics: Robert Nkemdiche, Scooby Wright, Bills Rumors, Jaylon Smith, NFL Draft, 2016 NFL Draft