The Buffalo Bills just missed making the playoffs last year, but they have every expectation of making the postseason this year - or head coach Rex Ryan and general manager Doug Whaley are expected to be fired. Here are three reasons why the Bills will reach that goal this season:
3) LeSean McCoy's bounce-back season
McCoy had to adjust to a new offense and dealt with a variety of nagging injuries in his first year in Buffalo, yet he still managed to rack up 895 yards in just 12 games. McCoy last played in only 12 games and rushed for less than 1,000 yards in 2012 - he followed that up with a 1,607-yard season in 2013. He'll be more comfortable in Buffalo's system in year two, and without as much wear and tear on his body from the year before, he'll have a very productive year. Look for him to get close to duplicating those 2013 numbers.
2) Tyrod Taylor's breakout year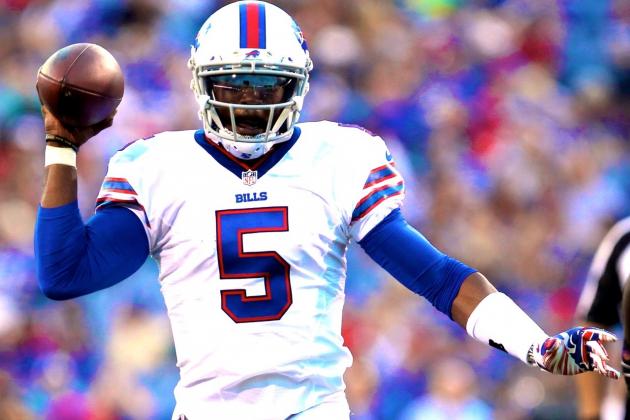 Much like McCoy, Taylor will be much more comfortable in his second year running Buffalo's offense. The Bills flirted with adding someone to compete with Taylor for the starting job, but there's no need - Taylor is capable of leading this team for years to come, and he'll show that in a big way in 2016. Buffalo believes it too, signing him to a six-year, $100 million extension.
Keep in mind, Taylor was excellent last year in his first season as a starter, passing for over 3,000 yards and 20 touchdowns (to just six interceptions) while adding another 568 yards and four touchdowns on the ground - in just 14 games. Expect him to take another step forward this year and prove he's worth that massive contract.
1) Winnable AFC East
New England has owned the division since the turn of the century, but there is definite reason to believe that the Bills could take the division this year. The Patriots will still be strong, yet Tom Brady's four-game suspension will likely result with them getting off to a slow start and putting up a lesser record. Miami isn't expected to compete for a playoff berth due to the many questions they face - including defense and quarterback play - and the Jets are waiting to implode after a tumultuous offseason. The time is now for the Bills to take advantage.
Back to the Buffalo Bills Newsfeed
Related Topics: LeSean McCoy, Tyrod Taylor, Bills News, NFL News