The Brooklyn Nets have nearly $40 million in cap space this summer, and they desperately need to use that to help bolster one of the league's worst rosters. Their lack of success means they likely won't be able to sign the top free agents available, but they will to acquire several players that will make them better. Here are three under the radar players the Nets could sign this summer:
Jeremy Lin
Charlotte is expected to part ways with Lin due to cap issues, and is coming off a very successful season in which he averaged 11.7 points, 3.2 rebounds and 3.0 assists per game off the bench. Brooklyn has been linked to Rajon Rondo, but if they can't sign him, they may turn their attention to Lin. His defensive issues are well documented, but Lin would provide Brooklyn with some much-needed offense. Plus, he's said to be very open to a return to New York, and the Nets would give him a chance to start.
Courtney Lee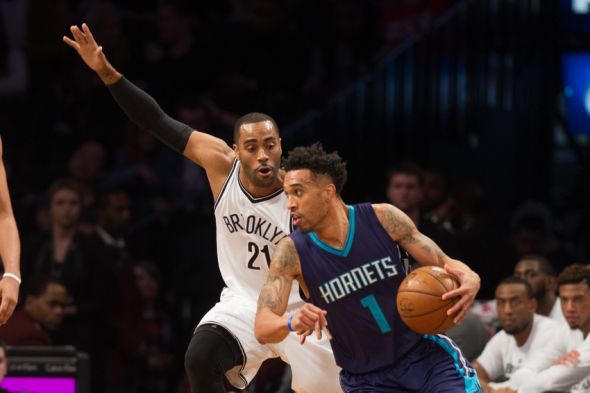 Brooklyn's biggest need is on the wing, and Lee is a relatively cheap option that can hold down the starting two-guard slot for the next several years. He is an athletic shooter who makes his mark on the defensive side of the ball, and would provide the Nets with someone who loves to get out on the break.
Harrison Barnes
Barnes wants more money than what the Warriors seem willing to offer him, and though they've said they would match any offer he is given, they've also said they will respect his wishes if he wants to join another team. As someone who has always been very concerned about their personal "brand", Barnes will be intrigued by playing with an expanded role in the media capital in the world.
Still just 24 years old, Barnes could become a vital piece of Brooklyn's core, and he would bring some much-needed championship experience to the franchise.
Follow our Brooklyn Nets news page for all the latest Nets news!
Back to the Brooklyn Nets Newsfeed
Related Topics: NBA Free Agency News, Nets News, NBA Free Agency, NBA Free Agency Rumors, Harrison Barnes, Courtney Lee, NBA News, 2016 NBA Free Agency, Jeremy Lin