Grading the first half of the 2012 Red Sox season is a complex process, as this team has gone through so much to this point, yet they still stand just 2 ½ games out of a Wild Card spot. From David Ortiz' hot first half, to Dustin Pedroia's frustrating season thus far, this team has seen a little bit of everything heading into the break and will need some quick changes if they hope to play October baseball this year.
Starting Rotation: C-
At the mid-way point of the season Sox starting pitchers have a record of 34-32. A .515 winning percentage from the starters is simply not going to cut it.
Josh Beckett is one of the main reasons for the sub-par performance from the starting rotation thus far. The right-hander seems to have lost interest in his craft, as he has been extremely inconsistent. Beckett has not won a start since May 20th, yes it's been a while.
For what was expected of him, Jon Lester has possibly been the most disappointing player on the roster so far this year. Lester sports a 4.49 ERA heading into the break, with a record of 5-6. He used to be one of the most consistent and reliable starters in the rotation, but every time he takes the mound now you just don't know what to expect. That's a bad sign for the second half of the season.
We could talk about Daniel Bard all day, but in summary, he was simply terrible in his 11 starts with the big league club. Despite a few decent starts against below average teams, Bard's inconsistency and abysmal outings were not going to cut it. After his 5 earned runs in 1 2/3 innings against the Blue Jays on June 3rd, the Sox pulled the plug on the "Bard for starter" campaign and sent him down to Triple-A Pawtucket. And if you think that's where he would improve and turn things around, I'm sad to say you're dead wrong. Since joining the "Paw Sox" Bard has given up 13 runs in 13 1/3 innings pitched. You heard that correctly, he has an 8.78 ERA against minor league hitting. He claims he 's figured it out, but numbers never lie. That is all for Daniel Bard, as his story for the season could drag on forever.
Although Clay Buccholz had about as poor a start to the season as humanly possible, he actually recovered well and was performing at a high level before he hit the 15-day disabled list in late June with intestinal bleeding, pretty strange indeed. Since May 11th Clay is 5-1 with a 2.43 ERA during that span. He has performed well in his rehab starts in the minors and is expected to return to the rotation on July 14th against the Rays. This is a bright sign for a team that is fading fast in the standings.
The biggest reason for optimism with the Sox starting rotation is lefty hurler Felix Doubront. "King Felix" (not him, the other one) is sporting a 9-4 record at the break, with a 4.41 ERA. Thus far, Doubront leads the team in wins, strikeouts, and ERA.
He also maintains a composure on the mound that none of the other starters on the Red Sox seem to posses. It's a confidence that's shown through his impressive performance so far, and that will most likely spill into the second half of the season as well. Expect Dourbont to continue to be the ace of this staff, as he will look to continue to improve as the season continues.
The other fill-in starters of Daisuke Matsuzaka, Franklin Morales, and Aaron Cook have been below average, yet no one expected much from them anyway. They have a combined record of 3-8, showing why they are simply "fill-in" starters until Clay Buccholz returns.
Relief Pitching: A-
A few weeks into the season no one in the Boston area had any reason to be optimistic about the Red Sox bullpen, as the Sox relievers where sporting the worst ERA in the majors. However, since late April Boston's bullpen has been one of the best in the big leagues.
At the mid-way point, the Sox relievers have a combined era of 3.13. That puts them in 3rd in the American league behind Baltimore and Oakland, which shows how unpredictable this season has been so far.
While new-arrival, and soon to be closer, Andrew Bailey went down in spring training with a thumb injury, fill-in Alfredo Aceves has been a solid replacement. The unconventional right-hander, who where's his number (91) in honor of former NBA All-Star Dennis Rodman, has 19 saves in 23 opportunities. Two of his blown saves came in the first few weeks of the season when Aceves was still getting used to the closer position. His impressive performance thus far will beg the question of what to do with original closer Andrew Bailey when he returns to the club. Bailey may be back with the Sox in late August, at which time he should return to his closer position. Aceves has more value in a reliever role, and has shown his capability to succeed in multiple-inning efforts, so moving Bailey back to closer should be Bobby Valentine's decision when that time comes.
Outside of Aceves, the rest of the bullpen has been impressive as well. Andrew Miller, Vicente Padilla, and Matt Albers are just some of the names that have highlighted the bullpen's success thus far. The most impressive non-closing reliever has undoubtedly been veteran Scott Atchison. The 36-year-old has thrown 45 1/3 innings so far, with a 1.79 ERA and 33 strikeouts. He has shut down opposing teams in critical late-inning situations as well, earning him the role as most reliable reliever at the mid-way point for the Red Sox.
If the bullpen can keep up the good work, the focus for the club will stay on the starting pitching to pick up the slack heading down the stretch.
Catching: B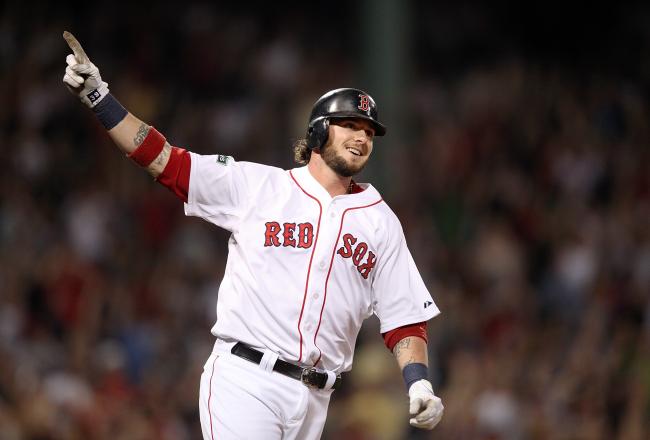 All things considered, the catching has been satisfactory so far this season. The combination of Jarrod Saltalamacchia and Kelly Shoppach has been a smooth transition after fan-favorite Jason Varitek retired following last season's September collapse. Saltalamacchia has cooled off after having a very impressive start to the season, as he has batted .163 since June 10th.  His power numbers are still impressive for the mid- way point, as he has racked up 17 home runs with 41 RBI's. Salty's average will still have to rise in the second half of the season if he wants to maintain his well-deserved "B" grade.
Infielders: C+
If it weren't for the emergence of rookie phenom Will Middlebrooks, then the infield grade would be in the lower "C" range for sure. Although first baseman Adrian Gonzalez has picked up his efforts lately, the infield has underperformed all season.
Before his 18-game hitting streak that started on June 20th, Gonzalez was hitting a measly .257, with 5 home runs and 36 RBI's. Even though his average has risen to .283 since then, his power numbers are still sub-par for what is expected of the powerful slugger.
Dustin Pedroia has also had an abnormal season thus far. The second baseman is batting .266 with 6 home runs and 33 RBI's at the All-Star break. These are obviously numbers that are much lower than anyone would have expected of the former MVP heading into the season, but he has appeared to be battling injuries all year. Pedroia is now on the 15-day disabled list with a hyperextended right thumb. If he can't return to his usual self soon, than this could be a long second half of the season for Boston.
Nick Punto can't be forgotten in the second base talk, even though I'm sure a lot of Sox fans would prefer that to be the case. Punto has been a non-factor this year, as his .212 batting average is not what the team had hoped for when they signed him this offseason. This is all the more reason that the team needs a healthy Dustin Pedroia back in the lineup as soon as possible.
Mike Aviles has done as much as anyone could have expected of him so far this year. He is batting .260 with 9 home runs and 44 RBI's. He's played an impressive shortstop as well, making him one of the biggest surprises on the club thus far.
Will Middlebrooks, as mentioned, has been a main reason why the Red Sox don't have a losing record heading into the mid-way point of the season. Middlebrooks came into Boston with a bang after an injury to starter Kevin Youkilis opened up the third base position. Middlebrooks finished his first month in the big leagues with a .316 average, adding 6 home runs and 21 RBI's. Although his average has dipped a bit since then, he has become the clear option for the present, and future, third baseman of the team. With Kevin Youkilis gone, it will be easier for Middlebrooks to focus on playing every day and adjusting to what changes he will face from opposing pitchers in the second half.
Even though he is the DH, we will include David Ortiz on the infielders list. There's been nothing to complain about with Ortiz this season, as the slugger has shut up any critics by finishing the first half of this year's campaign with a .312 batting average, adding 22 home runs and 57 RBI's. The Red Sox lone all-star has caused some commotion off the field, as he has expressed his frustration with the front office through the media. Besides these few outbursts in the clubhouse, Papi has looked like his good old self all season and the team can only hope this continues as we near the playoff hunt.
Outfielders: B
Grading the outfielders requires an explanation on the grading criteria beforehand. The "B" grade above is based on what is expected from all of the fill-in outfielders that this team has gone through since the start of the season. With Jacoby Ellsbury, Carl Crawford, Cody Ross, and Ryan Sweeney all spending time on the disabled list, there have been several openings in the outfield positions for incomers to step up.
Daniel Nava has taken advantage of the chance to fill-in in the outfield while others get healthy. Nava's .275 batting average in 52 games played has surprised many, as the switch-hitter has been very consistent since coming up from the minors. He has been impressive defensively as well, seemingly earning him a bench position with the club when the big names of Ellsbury and Crawford return.
Cody Ross has also been a pleasant surprise for the Sox. Ross has performed very well before and after his stint on the disabled list. He has 13 home runs, which is the 3rd most round-trippers on the club so far this season. If Cody continues to overachieve, it will make for a strong outfield once the injured players return.
Other honorable mentions at the outfield positions go to Ryan Sweeney and Scott Podsednik. Sweeney has spent some time on the DL, but has still put up an impressive .283 average over 54 games played. Scott Podsednik, a veteran outfield replacement, surprised everyone with a .387 average in his 19 games played from late May to mid-July.
If the outfield replacements can continue to successfully bridge the gap to the return of starters Jacoby Ellsbury and Carl Crawford, then they will give the team a good chance to stay close in the playoff hunt through July and into August.
Managing: B-
Bobby Valentine is one tough manager to figure out. He has repeatedly shown that he doesn't know how to handle the media, as he leaks information that should stay in-house and several of his responses come across as being very awkward. These off the field flaws aside, he has done a decent job managing this club considering all of the injuries they have faced so far. It has definitely been a rollercoaster season to this point, but Valentine seems to be slowly receiving the trust of his players. He will need this collective trust if the Sox want any chance of playing in October this season.
Summary:
If you were to summarize the Red Sox season in one line it would look something like this: "The Red Sox have been through many ups and downs in the first half of this 2012 season, yet they still find themselves 2 ½ games out of a playoff spot and will have a decent chance at making a playoff run if their returning stars perform to the best of their abilities."
With Jacoby Ellsbury, Carl Crawford, Dustin Pedroia, Clay Buccholz, and Andrew Bailey all seemingly returning to the club within the next month and a half, this team will have as good a chance as any to lock up a Wild Card spot. Expecting them to win the A.L. East will be asking too much, as they stand 9 ½ games behind the dreaded Yankees and this past weekend's four game series showed everyone how far apart these two clubs are at this point.
Second-half Prediction:
The Red Sox get a much-needed spark from Jacoby Ellsbury and Dustin Pedroia coming off of the DL and they find a way to get the second Wild-Card slot in the American League. Anything can happen in the one game playoff that will ensue. Play ball!
Back to the Boston Red Sox Newsfeed