Be forewarned -- our ranking of the five best players in Big Ten football for 2015 is going to ruffle some feathers. The five standouts we've selected come from just two schools in the conference. There were plenty of worthy players hanging out there on the fringes, but there is no denying just how impactful this next group of guys will be for the two consensus Big Ten title favorites -- Michigan State and Ohio State.
Calhoun is the key factor for what will be one of the nation's top defensive lines in 2015. After an underwhelming 2012 season, Calhoun has posted back-to-back seasons with 37 tackles or more while amassing 15.5 combined sacks. The biggest asset he provides, however, is how offensive lines are forced to stretch out to the point of imbalance to account for him on the edge. That overall disruption is what lands him at #5 on our list.
4. QB JT Barrett (or Cardale Jones) -- Ohio State Buckeyes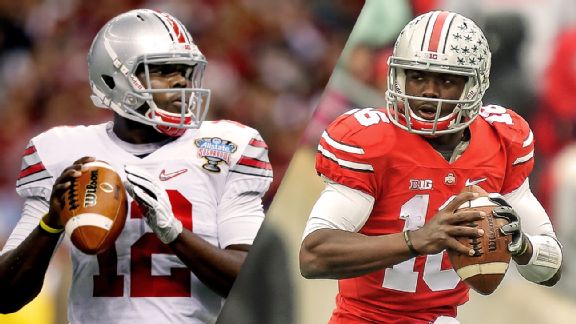 Take your pick here. We've called the competition for Barrett (in our own minds) based on stability, game management and overall leadership. But, whether it's Barrett or the athletic wild card Cardale Jones, the quarterback who wins the much-publicized competition in Columbus will inherit one of the most explosive, multi-faceted offenses going. Insert either into the lineup long-term and you have a bona fide Heisman contender.
3. QB Connor Cook -- Michigan State Spartans
He may be lost in the Buckeyes QB hype, but Connor Cook is simply the real deal. His overall passing numbers aren't going to drop any jaws this year, but Cook's steady hand and pinpoint accuracy (46 touchdowns to just 14 interceptions) is unmatched in college football this year. There's a reason why he's 23-3 as a starter over his past two years in East Lansing. Cook is a coach's dream and the guy who has the best shot at putting OSU out of commission in 2015.
2. RB Ezekiel Elliott  -- Ohio State Buckeyes
We're believers. Elliott's 850 combined rushing yards against Michigan State, Wisconsin (Big Ten title game) Alabama and Oregon (CFP) has us drinking the Elliott Kool-Aid. He was unstoppable in all four of those gigantic games, so imagine what he's going to do against a slate of also-rans in 2015. Don't sleep on Elliott's Heisman hopes.
1. DE Joey Bosa -- Ohio State Buckeyes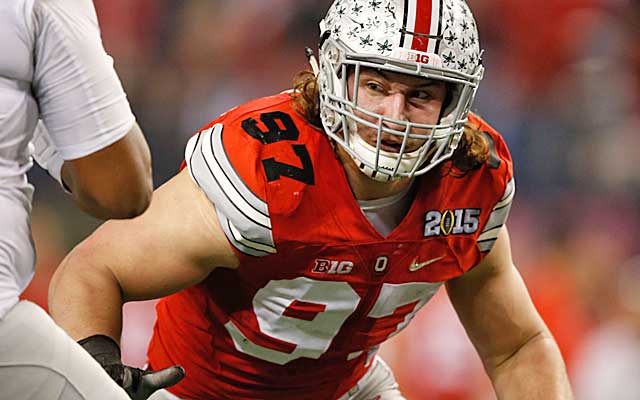 Forget about Bosa's recent disciplinary issues. Bosa is the most dominant player in college football, defensive or otherwise. Put him on the board as the #1 pick in the 2016 NFL Draft. His 21 tackles for a loss, 13.5 sacks and four forced fumbles during his sophomore campaign are impressive enough, but it's his ability to open up rushing lanes for his fellow teammates that takes his game to a whole new stratospheric level. All hail Bosa, the new and future king.
Back to the Big Ten Newsfeed
Related Topics: JT Barrett, Cardale Jones, Big Ten Football, Ezekiel Elliott, Ohio State Buckeyes, Ohio State Football, Joey Bosa, Connor Cook, Shilique Calhoun, Michigan State Football