The Big 12 is home to some of the elite coaches in college football, but it's also home to some major duds. We're here to separate the best from the worst by power ranking all of the coaches in the conference - for both their current resume and what they're fixing to do in the future.
10) David Beaty -- Kansas Jayhawks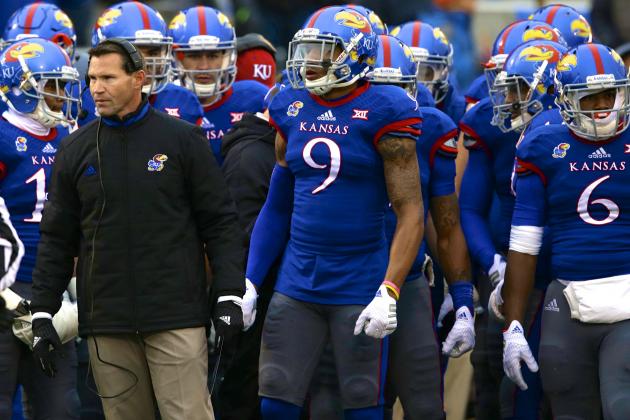 Beaty inheirted a terrible Kansas program in this first year on the job in 2015, but going 0-12 was not ideal. As has been the case far too often for the Jayhawks, this program is going nowhere fast.
9) Matt Campbell -- Iowa State Cyclones
Campbell is entering his first year as Iowa State's head coach after a successful tenure with Toledo, so only time will tell where he lands on this list. For now, he falls behind the other, more accomplished coaches until he can make his mark recruiting and on the field.
8) Bill Snyder -- Kansas State Wildcats
Kansas State won just three games in the four years prior to Snyder's hire in November of 1988. Since then, Snyder's teams have posted a losing record just five times. Nobody finds JUCO talent and develops it better than Snyder. He's done more at a recruiting disadvantage than most big-program coaches have done with their pick of top-tier talent.
Despite being one of the best coaches in the conference, Snyder ranks his low because of the "beyond" portion of this list - many expect him to retire after the 2016 season.
7) Charlie Strong -- Texas Longhorns

Strong's tenure with the Longhorns hasn't gotten off to the best start, but he has been an absolutely monster on the recruiting trail and has this program on the upswing. That bodes well for the future, but he won't move higher up this list until Texas starts winning on the field.
6) Kliff Kingsbury -- Texas Tech Red Raiders
Texas Tech has been its normal explosive offensive self under Kingsbury, but the defense is still in dire need of a rethink. Kingsbury's in-game decision making remains spotty, but there's room for growth here. 
5) Dana Holgorsen -- West Virginia Mountaineers
Rumors have been swirling that Holgorsen has been dancing around the hot seat in Morgantown, and while that's understandable given WVU's expectations, Holgersen has been the architect of a tough but successful transition for WVU from the Big East to the Big 12. Another 7-5 or 8-6 mark might not be enough for him to keep his job.
4) Mike Gundy -- Oklahoma State Cowboys
The Cowboys nearly won the Big 12 last year and have won at least 10 games in four out of the last six seasons. He's also posted winning seasons of 10 of his 11 years. The only reason why he's in the middle here is because of the class of coaches ahead of him.
3) Gary Patterson -- TCU Horned Frogs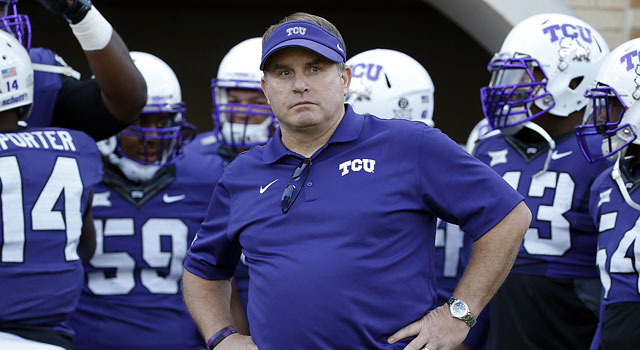 Patterson has won 143 games over 15-plus seasons in Fort Worth, with 10 or more wins in 10 of those. He's transformed TCU from an also-ran to a national power with his steady vision and creative game-planning.
2) Art Briles -- Baylor Bears
Briles has pushed Baylor from the bottom of the Big 12 to the peak with aggressive recruiting that has turned Baylor into a marketing powerhouse in the state of Texas. With Briles in tow, Baylor has seen their stock rise dramatically and the reputation of the program change dramatically.
1) Bob Stoops -- Oklahoma Sooners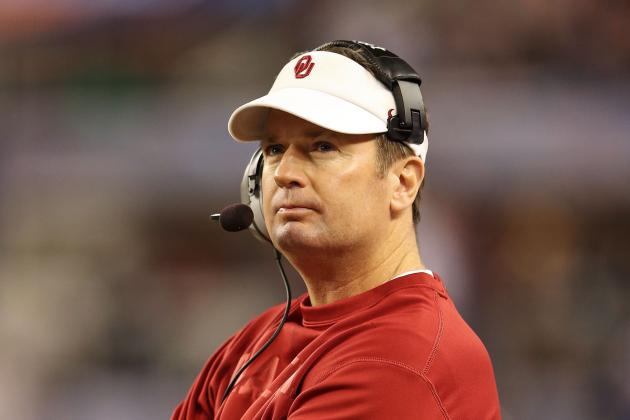 Going into his 18th season as Oklahoma head coach, Stoops is the 2nd-longest tenured head coach in college football. During his time in Norman, Stoops has guided the Sooners to nine Big 12 titles, a College Football Playoff appearance last season, and one national championship (2000). Simply put, Stoops has kept OU as one of the premier programs in the country, is one of the best coaches anywhere and should be at Oklahoma for the rest of his career.
Back to the Big 12 Newsfeed
Related Topics: David Beaty, Gary Patterson, Mike Gundy, NCAA Football, Bill Snyder, Bob Stoops, Kliff Kingsbury, Art Briles, Big 12 Football, Matt Campbell, Dana Holgorsen, Charlie Strong