Spring Practice is already well underway for Big 12 programs across the nation, but recruiting hasn't been ignored. Recruiting is basically a year-round event, and every Big 12 team is hard at work putting together a strong 2017 recruiting class. 
While every Big 12 coach would love to land a class consisting of only five-star recruits, that's just not how recruiting works. However, some very talented recruits have already pledged their services to Big 12 schools. A big tip of the hat to 247Sports, as their composite rankings were used. With that in mind, here are the 7 Highest Best 2017 Recruits Already Committed To A Big 12 School. 
7. LB Levi Draper, Oklahoma Sooners 
Draper is the first of two OU recruits on the list, matching the most of any Big 12 program. At one point, Draper was committed to Oklahoma State, but flipped. The top player from Oklahoma is the No. 85 overall player in the country. He's a four-star recruit, just like every player on this list. 
6. QB Sam Ehlinger, Texas Longhorns 
The Longhorns haven't answered the QB problems since Colt McCoy left, but maybe Ehlinger can be the solution. The dual-threat is the No. 84 overall player and No. 12 player from Texas. He's No. 4 dual-threat QB in the country. 
5. QB Shawn Robinson, TCU Horned Frogs
Robinson is the only TCU commit on this list, and one of three players TCU has committed so far. He's No. 76 overall recruit in the nation and the No. 3 dual-threat QB. 
4. WR Jhamon Ausbon, Baylor Bears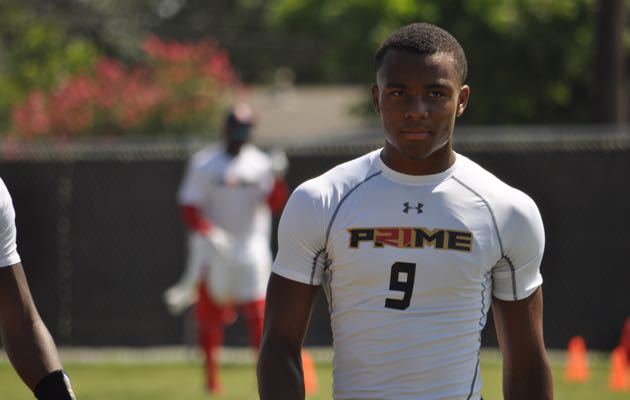 Baylor's top and only recruit on this list is a WR, because what pass catcher wouldn't want to put up crazy numbers in Baylor's high-power offense? Ausbon is from Florida, and is the No. 64 player in the country. He's the No. 11 WR.  
3. DE Lagaryonn Carson, Texas Longhorns
Charlie Strong sure can recruit defensive players, and he could land another talented one in Carson. He is the No. 63 player in the nation and No. 2 strong side DE in the nation. He's the ninth best player in Texas. 
2. OG Tyrese Robinson, Oklahoma Sooners
Robinson is the No. 51 overall player in the nation and the No. 2 guard. The Sooners went into Texas to land Robinson. However, he's not the best guard on this list. 
1. OG Jack Anderson, Texas Tech Red Raiders
Surprise, the Red Raiders led the way. Anderson is the No. 40 overall player in the nation and the best guard. The Texas product is the No. 4 player in the nation. 
Back to the Big 12 Newsfeed
Related Topics: Oklahoma Sooners Football Recruiting News, Baylor Bears Football Recruiting News, Big 12 Football Recruiting News, TCU Horned Frogs Football News, Texas Football Recruiting News