The Big 12 emerged as undoubtedly the best conference in all of college basketball, routinely having six teams ranked at any point during the season - including five ranked in the top 10 at one point. Those six teams are definite locks to make the tournament, several of whom are fighting for a No. 1 or No. 2 seed, while another team is on the bubble. Here's a breakdown of where all seven of those teams stand with just over one week remaining until Selection Sunday.
POTENTIAL TOP SEEDS
Kansas Jayhawks (26-4, 14-3 in Big 12)
Oklahoma Sooners (23-6, 11-6)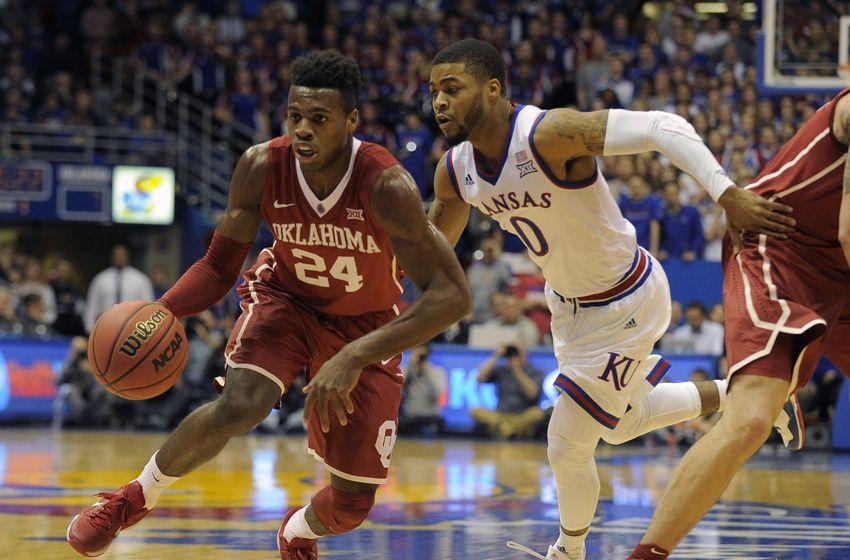 Kansas is currently ranked No. 1 in the country and is line to receive the top overall seed in the tournament. Even if they falter in the Big 12 Tournament, they'll still be a one seed. As for Oklahoma, they're fighting for one of the bottom one seeds with Virginia, North Carolina, and Michigan State. They will lock up a top seed if they win the Big 12 Tournament, but probably won't get one if they don't.
LOCKS
West Virginia Mountaineers (23-7, 12-5)
Iowa State Cyclones (21-9, 10-7)
Baylor Bears (21-9, 10-7)
Texas Longhorns (19-11, 10-7)
These teams are all projected to be top six seeds in the tournament by ESPN's Joe Lunardi, putting them firmly in the tournament. West Virginia or Iowa State could rise to a two seed if they win the Big 12 Tournament, but all four will definitely be in even if they loste all of their remaining games before hand.
SHOULD BE IN
Texas Tech Red Raiders (18-11, 8-9)
Currently, Texas Tech is squarely in the tournament (Lunardi has them projected to be an eight seed). However, they need just one more win down the stretch to solidify their spot in the tournament. The Red Raiders have played the toughest schedule in the country and rank 26th in the RPI, but a loss to Kansas State this weekend and then to TCU in the Big 12 Tournament would suddenly put their tournament status in major jeopardy.
Back to the Big 12 Newsfeed
Related Topics: Oklahoma Sooners Basketball, West Virginia Mountaineers Basketball, Baylor Bears Basketball, Big 12 Basketball, Iowa State Cyclones Basketball, Kansas Jayhawks Basketball, Texas Tech Red Raiders Basketball, Texas Longhorns Basketball, College Basketball, NCAA Basketball, NCAA Tournament