The Big 12 has been one of the most intriguing football conferences in each of the past two years, and there are no shortage of storylines heading into the 2016 season. Here are the top five storylines to watch for this year:
Will Oklahoma repeat?
The Sooners are expected to compete for the national title again in 2016 with star quarterback Baker Mayfield returning along with starting running backs Samaje Perine and Joe Mixon. Oklahoma does have several key players they'll need to replace on defense - headlined by Charles Tapper and Eric Striker - but their offense should be able to outscore almost everyone they'll face.
Can Charlie Strong save his job?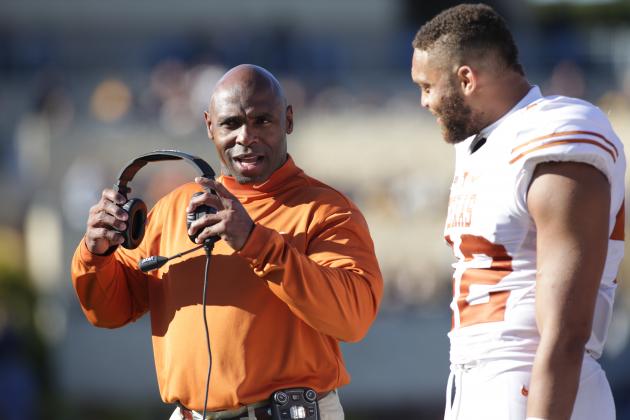 Texas' Charlie Strong comes into the season on perhaps the hottest seat in the country. The Longhorns haven't had a winning season under Strong yet, and with three strong recruiting classes under his belt, the time is now for Texas to start making positive strides up the Big 12 standings. Another six- or seven-win season will result in him being fired.
Will Dana Holgorsen get fired?
Other than Strong, Holgorsen is the other guy coaching for his job. He has been on the hot seat at West Virginia each of the past two seasons, but a 7-6 mark in 2014 and 8-5 record last year have been enough to save his job. However, WVU expects to compete for the conference title this year. Anything other than that will result in him getting the axe, too.
Which Baylor quarterback will start?
Seth Russell had the reigns at the start of the season for the Bears, but a neck injury forced him to miss the last six games of the season after passing for 2,104 yards, 29 touchdowns, and just six interceptions. Jarrett Stidham took over after that and played even better, passing for 1,265 yards, 12 touchdowns, and two interceptions in three starts before he got hurt and missed the rest of the year.
Both players showed tremedous arm talent and excellent understanding of the system. Baylor head coach Art Briles may be inclinced to use a two quarterback system, but would prefer to stick with one. Look for this competition to play out during the first few games of the season.
Back to the Big 12 Newsfeed
Related Topics: Oklahoma Sooners Football, Big 12 Football, Baylor Bears Football, West Virginia Mountaineers Football, Dana Holgorsen, Texas Longhorns Football, Seth Russell, Charlie Strong