The Big 12 is home to some of the best talent in college football, and the next five guys reinforced that fact this week. Here are the five best player performances in Big 12 Football From Week 8.
5. Tyrone Swoopes, QB, Texas
Yes, we start with Texas' backup QB. Swoopes didn't complete a pass, but he did play well on the ground. He makes this list because he racked up seven carries for 50 yards and 3 TDs. Swoopes gets limited playing time, but three TDs can't be ignored. 
4. Shock Linwood, RB, Baylor 
Another ground threat this weekend was Linwood. Baylor actually relied more on the ground than the pass against Iowa State and Linwood was the beneficiary. He recorded 171 yards and a score on 27 carries. He's an easy choice for this list. 
3. Corey Coleman, WR, Baylor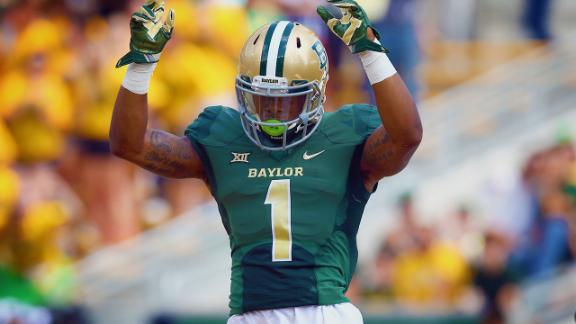 Another week and another Coleman appearance. Against Iowa State, Coleman caught six passes for 85 yards and 2 TDs. For Coleman, that's a bit of a down game. 
2. Joe Mixon, RB, Oklahoma 
The Sooners leaned on the run all afternoon against Texas Tech. Mixon had a strong game, recording 16 carries for 154 yards and 2 TDs. That's normally enough to take the top spot, but another Oklahoma running back had a better game. 
1. Samaje Perine, RB, Oklahoma
Perine did terrible, awful things to the Red Raiders' defense. On 23 carries, Perine had 201 yards and 4 TDs. Those are absurd numbers, especially since Perine had topped 80 yards just once this season. Perine is the obvious and only choice for the top spot. 
Back to the Big 12 Newsfeed
Related Topics: Corey Coleman, Shock Linwood, Joe Mixon, Tyrone Swoopes, Samaje Perine